Best Portable Fire Pits, Reviews, and Comparison

---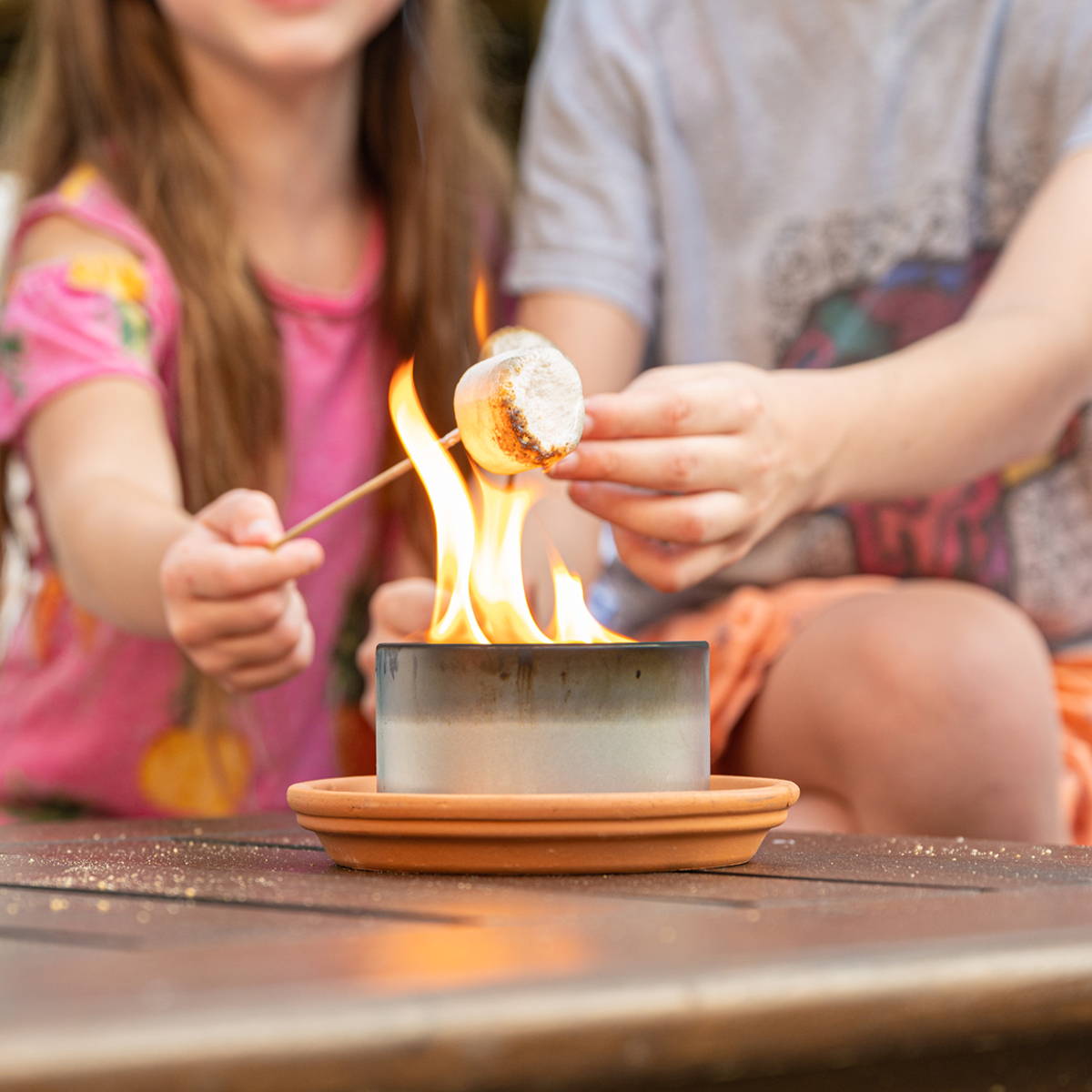 Summertime is one of the best times to travel and experience the great outdoors. It's synonymous with sunshine, beaches, camping, bonfires, and s'mores. Getting outside also makes it easier to safely socially distance around the campfire for some long overdue get-togethers and family reunions. However, getting a fire to start can be difficult and unsafe. And if it's not an easy-to-pack, portable bonfire pit, you're going to have your work cut out for you.
So, we looked into the best portable fire pits available and compared them so you can enjoy your portable campfire pit instead of wrestling with packing it and struggling to get it lit. Whether you are tailgating, having a beach bonfire, hanging out next to your patio fire pit, roughing it in the woods, or need a safe campfire for camping–you're sure to find it here on our list of the best portable bonfire pits.
Outland Living Portable Propane Standard Fire Pit
The Standard Fire Pit from Outland Living is their smallest, and therefore most portable propane fire pit available. At around $120.00, it's a little pricier than some of the other portable fire pits on our list but it does provide a fast and easy-to-light heat source. The downside is its size (19"x19"x11") and weight (22 lbs.), making it hard to transport. Then you have to pack the hose and a propane tank (at an additional cost), making it even less portable. And you can't use it for cooking (at least they don't mention it on their site). It can also be unsafe since this type of setup can create a tripping hazard, especially around kids and pets.
Solo Stove Bonfire Fire Pit
The Ranger Outdoor Fire Pit is the smallest version of the bonfire fire pits sold by Solo Stove. This portable fire pit is definitely an investment and the highest priced one at $199.99 when it's on sale (or $269.99 not on sale). It has minimal smoke, which is great, and it's easy to clean. However, I don't agree that it's "the most compact, ultralight fire pit out there." Especially when it weighs 15 lbs. (not including the wood you have to pack) and is 15"x12.5" in size. And lighting firewood in it is going to have the same challenges as any firepit fueled by wood. You'll also need to remember to have your logs cut down to 12" long to fit.
Flickr Fire Personal Fireplace
FLÎKR Fire® is unique in that you can use it indoors, as long as it's in a well-ventilated space. However, their site does not explain what exactly this means. It uses isopropyl rubbing alcohol. Unfortunately, this type of fuel can be hard to find in stores, as we saw when supplies were wiped out during the COVID pandemic. You can cook very small items on it, like s'mores, but you won't get much heat out of it when you need it to radiate warmth as a portable campfire or to cook meals on during an emergency.
City Bonfires Portable Fire Pit
If you are looking for the best portable fire pit that you can take just about anywhere, then the City Bonfires Portable Fire Pit is your best option. It only weighs 1 lb. and has a highly portable, convenient size (4"x2.375") that easily fits into a backpack or luggage. And with an affordable price of only $21.95 each, you can bring more than one for your trip, camping, hiking, tailgating, or when hanging out in the backyard, on the patio, or balcony. It's made in the USA with 100% non-toxic FDA food grade soy wax, so it's safe to cook on to make s'mores and other foods if you ever need an emergency cooking and heating source. The flame last 3-5 hours (depending on the environment and use), it's reusable, and it's easy to light (even in the wind). It's also safe to use as a tiny, portable campfire (to radiate heat or cook on) in many areas where bonfires are not allowed because it's self-contained and easy to extinguish by closing the lid. If you don't want to have to get and pack wood, deal with embers and smoke, or clean up ash and soot, then City Bonfires is the hassle-free portable fire pit or outdoor tabletop fire pit bowl that you're looking for.
You can find more ideas and ways to use City Bonfires on their blog.
About City Bonfires
Every portable City Bonfires is handmade with ❤️ in Maryland with American-made materials by two Dads whose jobs were impacted by COVID-19. Each of our mini campfires is handmade with recyclable steel tins, non-toxic soy wax and, eco-friendly, all-natural biodegradable briquettes. Our kits are individually wrapped and packaged, making them safe for outdoor intimate gatherings, patio parties, or large events. We can ship our s'mores gift sets individually (to separate addresses) or as a bulk shipment. City Bonfires are also perfect as promotional products or as an icebreaker for remote or in-person corporate/business events, celebrations, or virtual team-building activities.