7 Best Halloween S'mores Charcuterie Board Ideas

---
Boo 👻! It's 🎃 Halloween! That ghoulish time of year when we get to secretly steal the kids' candy, eat too much sugar, and find new ways to have fun at the annual Halloween party. This year, Halloween-themed S'mores Charcuterie Boards have become the most popular way to serve Halloween dessert, along with having a safe, little bonfire with City Bonfires.
We rounded up our list of the 7 Best Halloween S'mores Charcuterie Board ideas from our fans and friends to inspire you to make s'more unforgettable halloween memories with your friends and City Bonfires.
---
Halloween Printed Marshmallows S'mores Tray
This fall picnic, from Vanessa Rosa, with halloween printed marshmallows has got to be one of the best halloween dessert s'mores boards we've seen this spooky season! The printed marshmallows, from Candy With a Twist, have pumpkins and skeleton faces imprinted on them and are completely edible! We can't wait to see the smore's boards they come up with next!
---
Halloween S'mores Board with Engraved Marshmallows
My Cheesy Passion has taken Halloween Boo Boards to the next level with these pumpkin, ghost, and BOO! engraved Kraft Jet-Puffed S'moreMallows Marshmallows. Add some Frankenstein Peeps, Oreo halloween Cookies, and Halloween themed candy to complete your Halloween S'mores Board.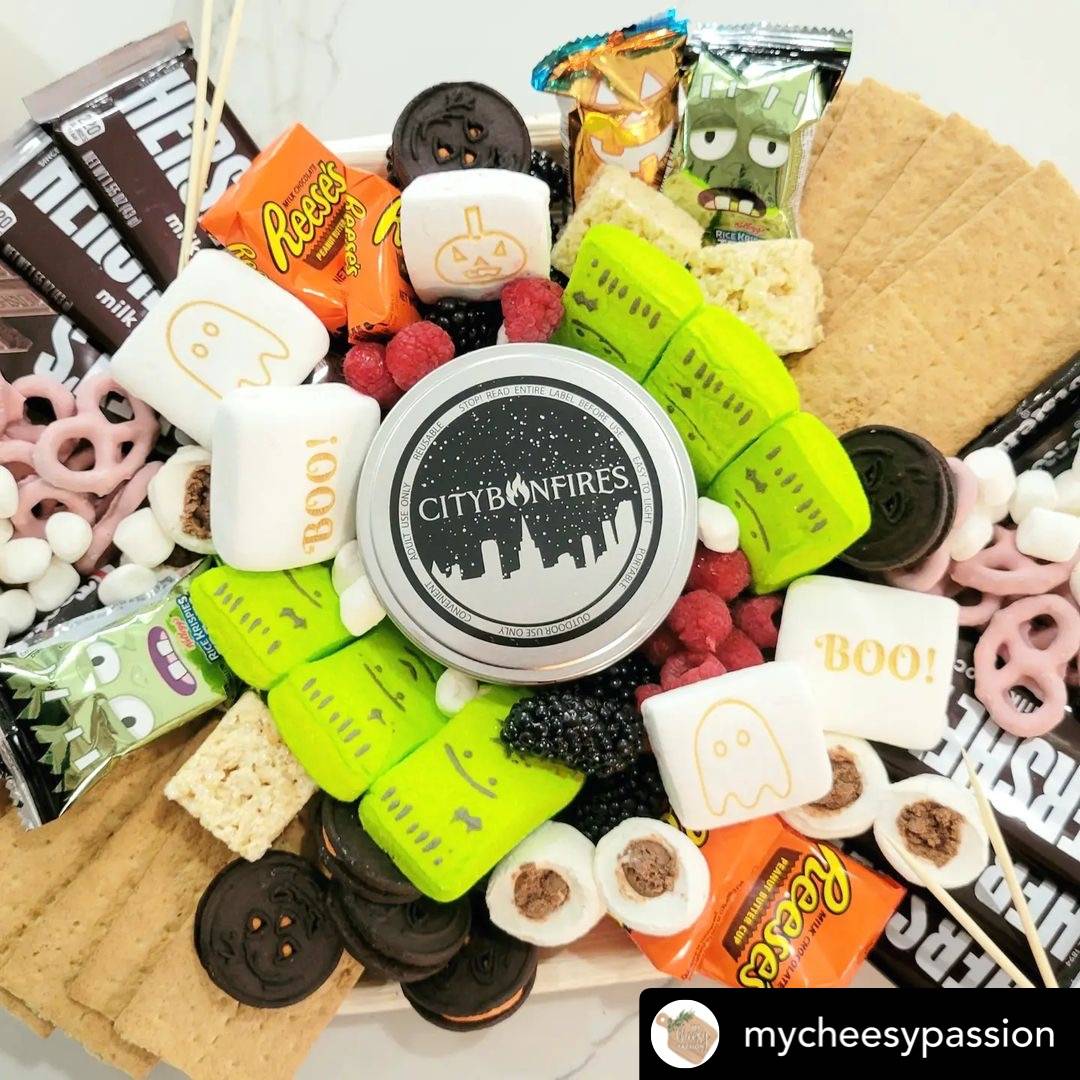 ---
Extra Large Halloween S'mores Board
This ghastly and grandiose halloween s'mores board comes from the luxury charcuterie and dessert board creators at Charcu in the Lou. It comes with halloween treats galore, including: peanut butter, Hershey's cookies and creme, Nutty Buddy® Wafer Bars, and even Kraft Jet-Puffed candy corn marshmallows!
---
Halloween Peeps and S'mores Boo Box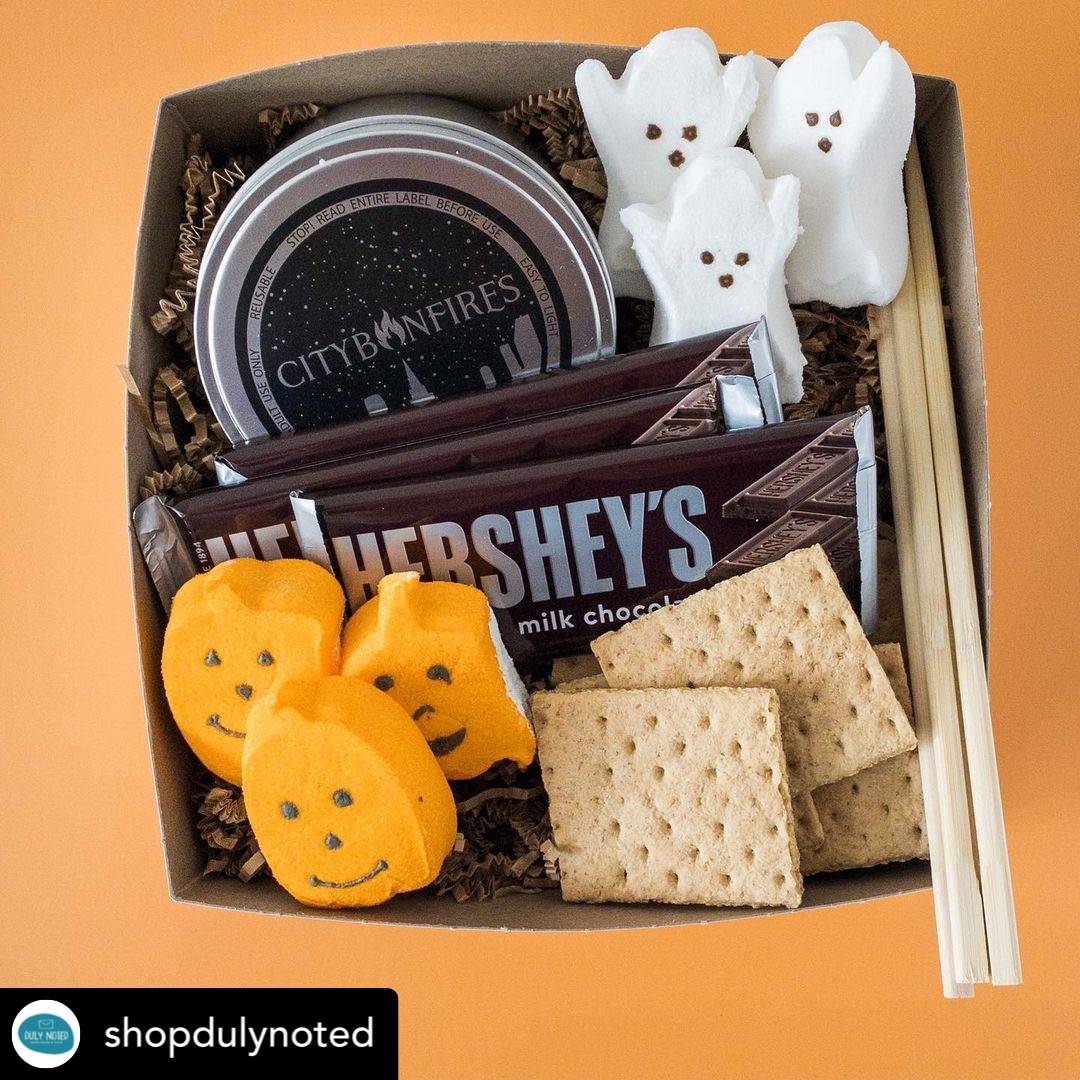 ---
S'mores Grazing Table with Halloween Chocolate Bark
Our Good Dog Board Company friends create artisan charcuterie boards, boxes, and grazing tables, like this fantastic s'mores board table that includes homemade Halloween chocolate candy bark with eyeballs and Halloween puffed, crispy rice treats.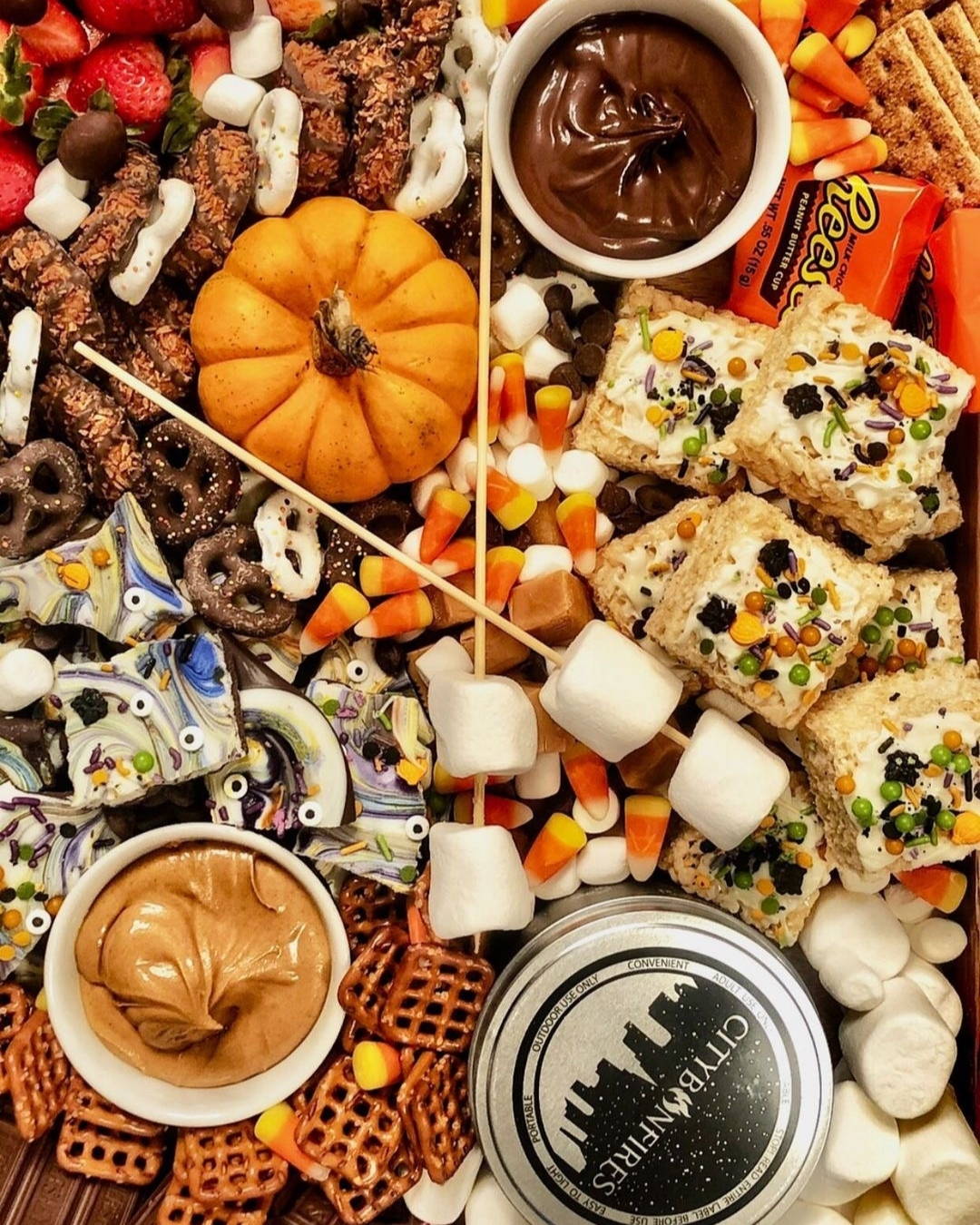 ---
Sweet and Salty S'mores Box
This sweet and salty Halloween s'mores box comes from All About Boards located in Mamaroneck, NY, in Westchester County. It comes with a City Bonfire lots of Halloween candy and goodies, along with pretzels and caramel dipping sauce!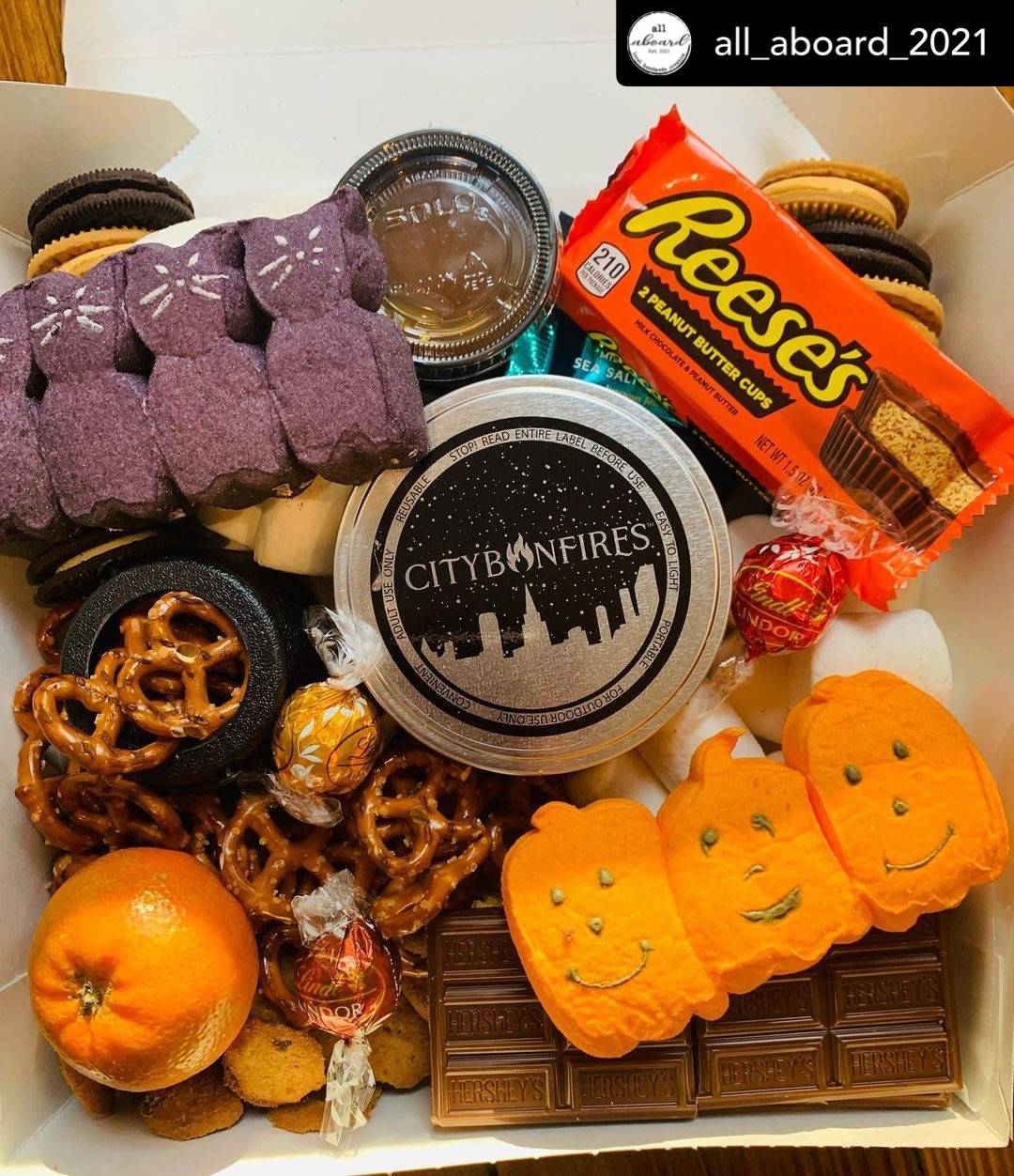 ---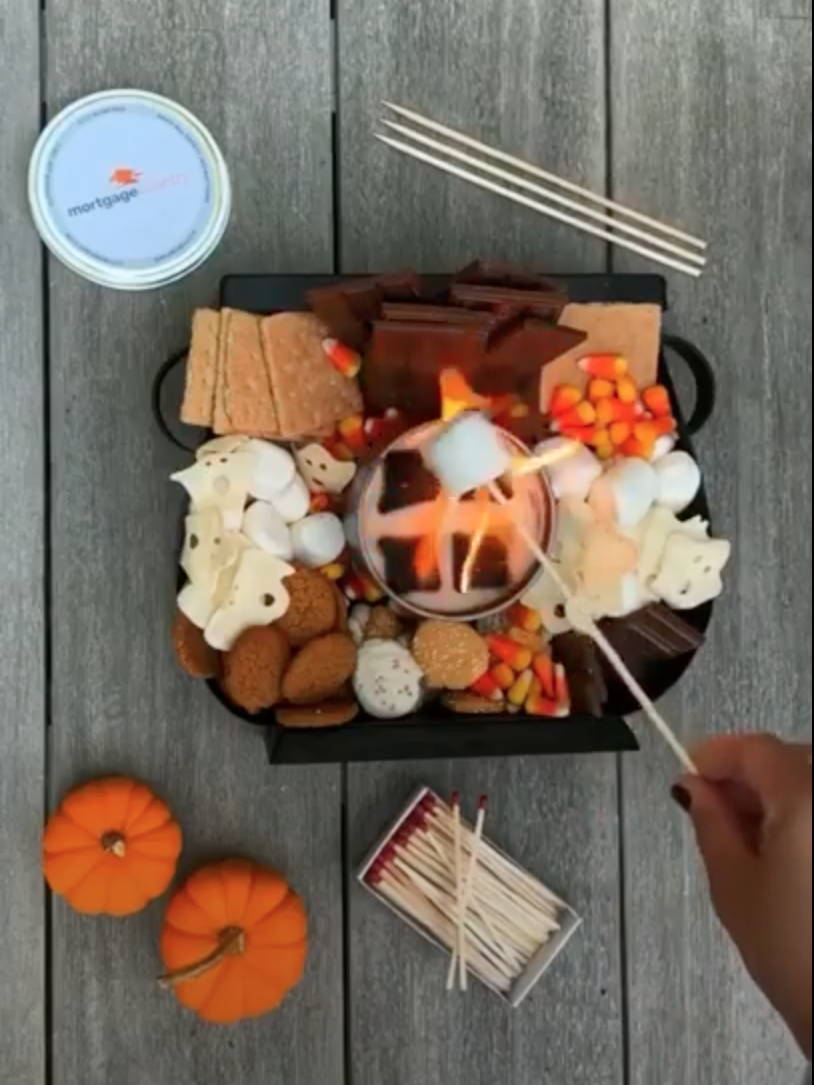 ---
---
---