Easy Toasted S'mores Ice Cream Sandwiches Recipe

---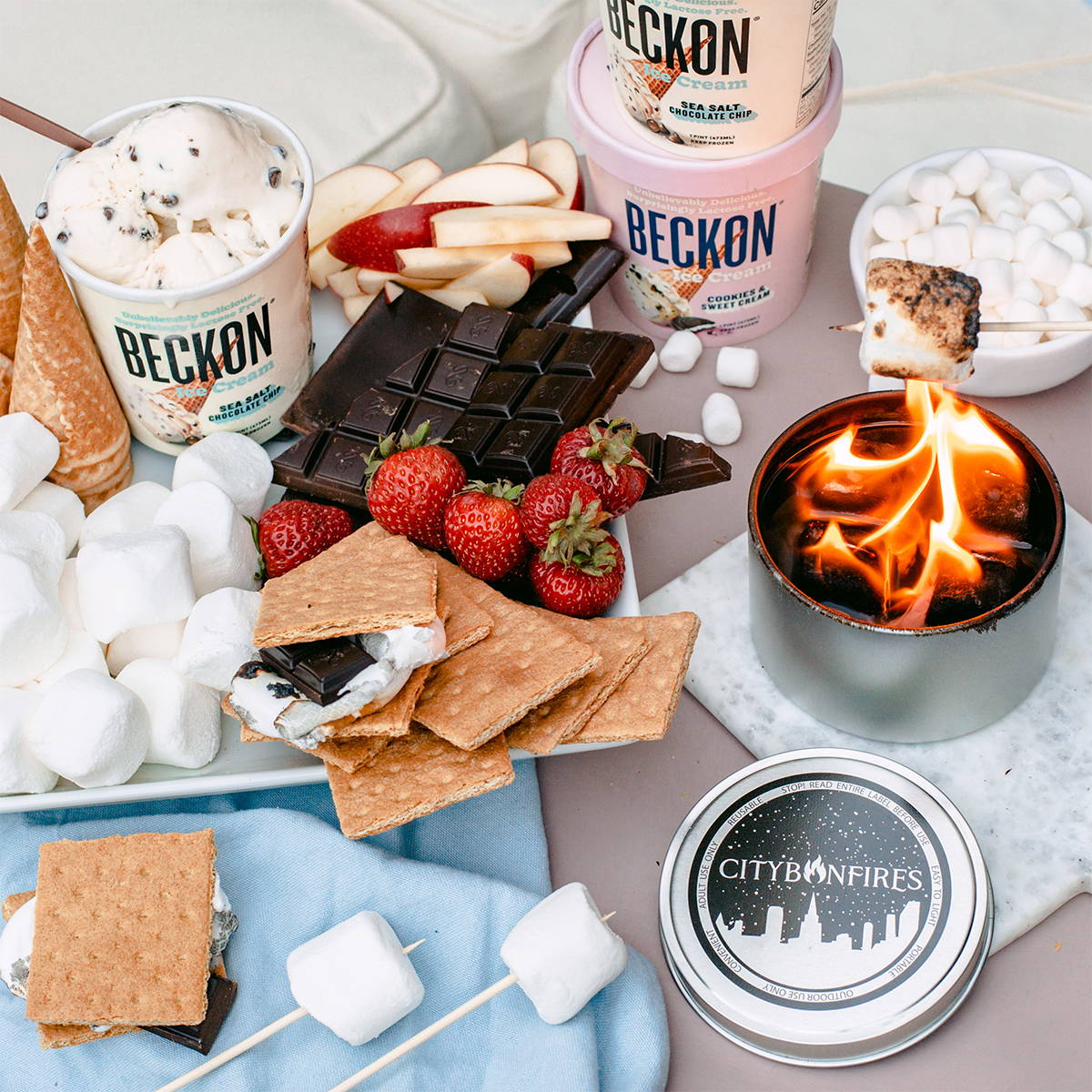 ---
Our friends at Beckon Ice Cream are ice cream lovers who make premium lactose-FREE ice cream with the same decadence and richness as any premium lactose-FULL ice cream. They are a woman-owned business in Alston, Massachusetts, that is propelled by a hard-working ethic and surrounding themselves with the best. So, of course, we had to partner up with them for one of the best ice cream sandwich recipes out there, with a s'mores twist and toasted marshmallows on our mini City Bonfire.
RECIPE
Level up your at-home s'more game with a mini bonfire set and ice cream. What's better than melt-in-your-mouth delicious lactose-free ice cream from Beckon Ice Cream in between the perfectly roasted marshmallow nestled within graham crackers and melted chocolate? Want to get fancy with it (because why not, let's live the good life after all!)? Add some berries, some hot fudge, and mix n' match multiple ice cream flavors! Ready, set, roast!
Time: 30 mins
Servings: 4
Difficulty: Easy
Beckon Flavors Used: Sea Salt Chocolate Chip, Cookies & Sweet Cream
Ingredients:
Graham Crackers

Hot Fudge (we like Coop's Dairy Free version)

Marshmallows
We used Sea Salt Chocolate and Cookies & Sweet Cream when we made ours this time. However, feel free to create your own unique ice cream s'mores sandwiches with any of our lactose-free ice cream flavors: Peanut Butter Cup, Vanilla, Dark Chocolate Brownie (for the chocolate addicts), Chocolate Chip Cookie Dough, Mint Chip, and Espresso (for the coffee lovers).
Instructions:
Break the graham crackers in half.

Place 4 of the graham cracker squares onto a plate. Spread 1 Tablespoon of fudge over each square. Place them in the freezer to set up while you toast the marshmallows.

While the fudge freezes, toast your marshmallows over your City Bonfire mini portable fire pit. Golden brown or burnt - whatever you like!

Once the marshmallows are toasted, place each one onto the remaining graham crackers and set aside.

Take the graham crackers with the fudge out of the freezer. Use a small ice cream scoop or a spoon to spoon a small scoop of ice cream on top of the fudge.

Place the graham cracker with the marshmallow on top of the ice cream and press down firmly to sandwich together.

Place back in the freezer to set up for at least 20 mins. or until ready to serve!
---
Start making these toasty s'mores ice cream sandwiches and memories with your friends, family, and City Bonfires.Text
---
---
---