Tabletop Fire Pits & S'mores Kits WOW Guests at Restaurant & Bar in Chicago

---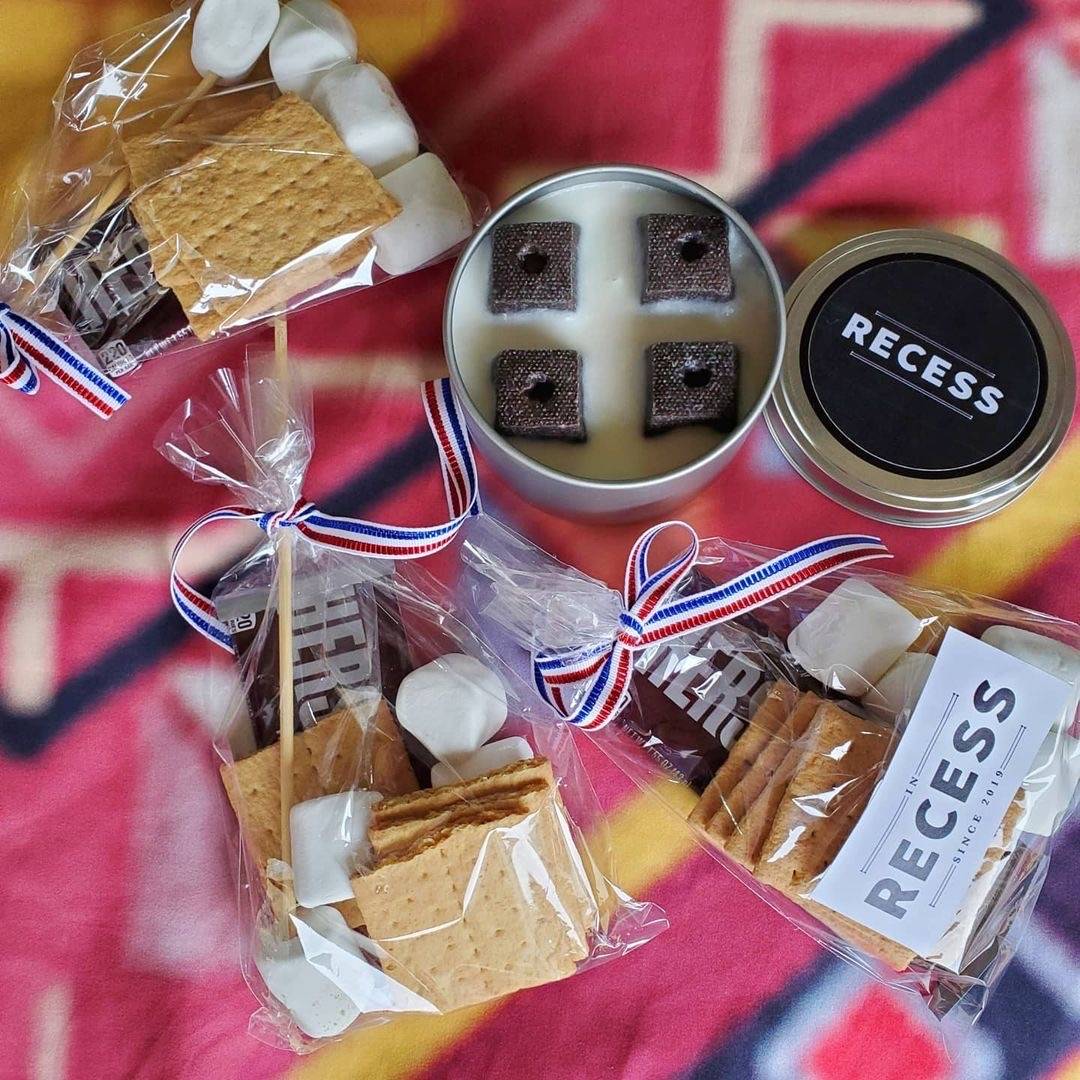 S'Mores Kit (Personalized by Recess, the patio restaurant & bar at City Hall). Photo: Ria | Urban Ohana (@urbanohana)
This week, we caught up with Toula Georgakopoulos, event sales manager at City Hall in Chicago, Illinois, to learn about how City Bonfires helped this restaurant keep patio season going all winter long!
Tell me about City Hall?
Toula: City Hall is a huge building housing 5,500 square feet of private event and restaurant space with a massive, 14,000 square foot patio. The building is a typical warehouse-style building here in Chicago; it was a pipe manufacturing plant built in the early 1900's. Events and indoor dining have always been a huge part of our business. Due to COVID, and being in cold Chicago, we have had to come up with creative ways to keep the lights on and keep our jobs!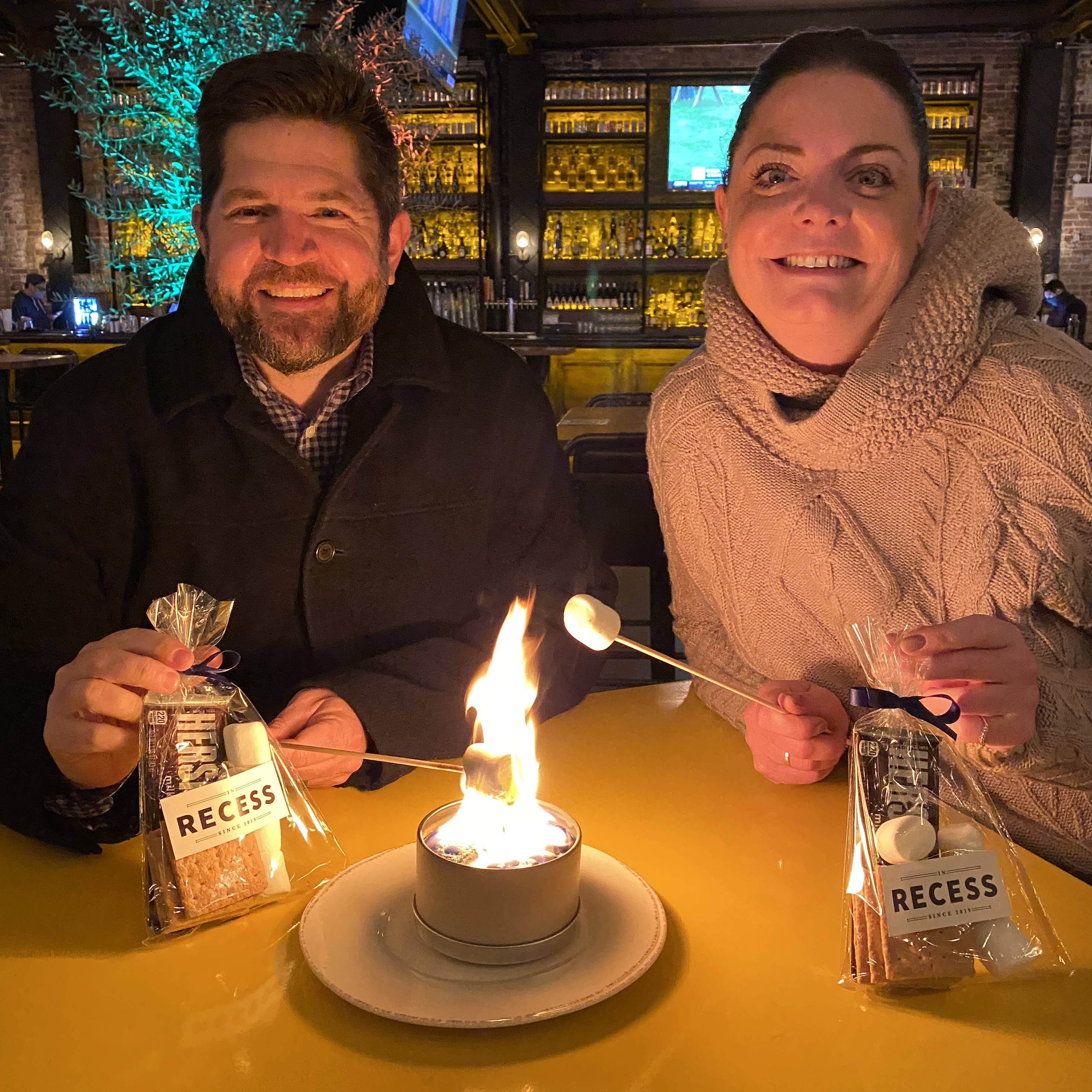 Table Top Urban FIre & S'Mores Kit (Personalized by Recess, the patio restaurant & bar at City Hall). Photo: City Hall Events
How has COVID impacted your business?
Toula: Of course everyone in the event and hospitality industry got hit extremely hard during COVID. We were relatively new, we opened in 2019, so 2020 was supposed to be our year. The good news is I am surrounded by an amazing team, we are truly a family and worked so many hours together. We had to pivot and say, "Ok what can we do to keep people safe and still stay in business?" We like to think we are the safest patio in Chicago; our patio space is massive, everyone can easily social distance six feet apart, and it has a great vibe. We had every protocol in the book in place, and summer weather was amazing, but as winter began to creep up we had to think of new ideas. We learned that Chicagoans are absolutely resilient when it comes to weather! Our patio was still tremendously busy throughout the winter; people bundled-up and braved the cold for boozy hot chocolates by the fire pits in 20 degree weather. We built relationships, and really thanked each and every one of our customers for helping us keep the lights on.
How did you find City Bonfires?
Toula: In October, we had a pop-up event on our patio with massive fire pits and heaters. Customers could buy a ticket, get a s'mores kit, go over to one of the fire pits and roast marshmallows. People loved it, it was interactive, and something different for people who needed to get out of the house! It turned into a "campfire in the city" kind of thing and became our little gimmick. Our regular a la carte diners on the patio always begged to do it too, but we didn't have room for enough large fire pits. One day, the ad popped up on our Instagram for City Bonfires. Our mouths dropped, these portable bonfires are exactly what we were looking for to accommodate individual tables!  
How do you use City Bonfires?
Toula: City Bonfires and s'mores have been a very popular option for a table top fire at individual dining tables on our patio. They really sell themselves; when customers see the fire kit being lit at a table, all heads turn! We sell them as our "s'mores experience." We place the City Bonfire in a tin pail and fill it with sand to make it a little safer and not so hot to the touch. Our next step is to start selling City Bonfires and s'mores kits in our retail section.
Any feedback on the product?
Toula: People really love the ambiance it creates; it's something special to have your very own mini campfire on the table! Valentine's Day was amazing, we couldn't keep up! It's a great date night idea. One small issue was the container getting super hot to the touch, but we found a solution to that with the sand-filled, tin bucket.
Follow City Hall on Facebook and Instagram to stay up-to-date!
About City Bonfires
Every portable City Bonfires is handmade with ❤️ in Maryland with American-made materials by two Dads whose jobs were impacted by COVID-19. Each of our mini campfires is handmade with recyclable steel tins, non-toxic soy wax and, eco-friendly, all-natural biodegradable briquettes. Our kits are individually wrapped and packaged, making them safe for outdoor intimate gatherings, patio parties, or large events. We can ship our s'mores gift sets individually (to separate addresses) or as a bulk shipment. City Bonfires are also perfect as promotional products or as an icebreaker for remote or in-person corporate/business events, celebrations, or virtual team-building activities.
---