Custom City Bonfires and S'mores Kits Win 2nd Place at PPAI Expo
---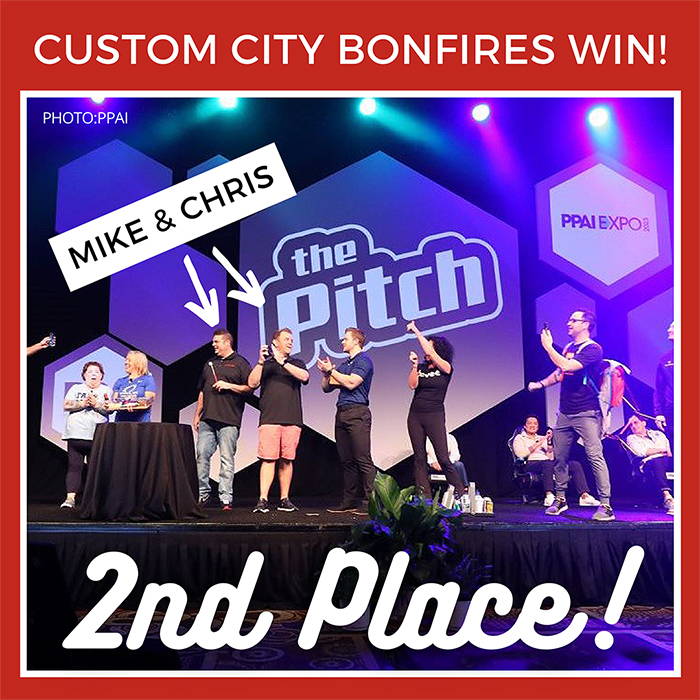 ---
---
Award Winning Custom Promotional Products
---
---
LAS VEGAS, NV, January 11, 2023 -- City Bonfires is proud to announce that they won second place at the first-ever "The Pitch" competition (similar to Shark Tank) during the 2023 Annual PPAI Expo, held at the Mandalay Bay Convention Center in Las Vegas, NV. Their portable, mini fire pits and s'mores kits can be customized for promo product distributors who want to give their clients a unique, personalized, experiential gifting experience that is interactive and recyclable, opposed to the traditional promotional product offerings on the market today.
"The Pitch is a new, interactive and live experience highlighting a unique group of suppliers presenting their newest, most innovative products – which they predict to be 2023 best-sellers – to both a highly respected group of distributor judges and to the entire audience," says PPAI senior vice president Alan Peterson.
All four judges for "The Pitch" – Amanda Clay, vice president of sales at Walker-Clay; Danny Rosin, president and co-owner of Brand Fuel; Memo Kahan, president of PromoShop; and John Vo, MAS, owner of WHOOPLA – turned their chairs to signal that they liked the product. Over fifty product manufacturers and suppliers applied to be a part of "The Pitch." Only seven were selected to participate, including City Bonfires. The audience also voted and picked City Bonfires as second out of the seven finalists.
"We were so excited to be one of the seven finalists chosen to showcase our custom products. And then winning second place was just truly amazing! We are so grateful and want to thank all the amazing companies we have been able to work with." said Chris McCasland, co-founder of City Bonfires. "Our custom products are so versatile and popular that everyone loves them, in every type of industry and business, no matter how big or small."
"We've just been floored by our custom product categories' success. It's been growing like crazy, and we expect it to continue to grow throughout 2023," states City Bonfires co-founder Michael Opalski. "It's really a no-brainer for companies. It's a multi-purpose product, so it can be used for many different business activities, like events, holiday gifts, employee recognition, and sales initiatives. And, like Chris said, everyone loves them, so they are often given to the same recipients more than once because most people end up requesting more. For example, we have a lot of businesses who order them every year for their holiday or client gifts."
Since they began in 2020 during the COVID pandemic, City Bonfires has customized their tiny campfires in a can and s'mores kits for thousands of companies, promotional product distributors, charities, events, and individuals. Including all sizes and types of businesses, like Amazon, Google, Michelob Ultra, Salesforce, Domino's Pizza, and many more throughout the United States and Canada. Custom City Bonfires promotional products are used in almost all types of industries, corporations, mom and pop shops, subscription box services, and the list continues to grow.
---
---
---
Learn more about Custom City Bonfires and S'mores Kits and their promotional products.
---
---
ABOUT CITY BONFIRES
City Bonfires is a portable fire pit, handmade with recyclable steel tins, non-toxic soy wax, and eco-friendly, all-natural biodegradable briquettes. These portable bonfires are made with love in Maryland with American-made materials by two dads whose jobs were impacted by COVID-19. The company believes bonfire nights are the best nights with family and friends. City Bonfires has been featured on the Today Show, Good Morning America, CNBC, The Food Network, USA Today, Forbes and People Magazine. All City Bonfires products are made in the U.S. Follow them (@citybonfires) on Instagram, Facebook, TikTok, Twitter, and Pinterest.
City Bonfires Media Contact: tiffany@citybonfires.com
ABOUT PPAI
PPAI (Promotional Products Association International) is the trusted leader in the promotional products industry delivering essential knowledge, resources, and community to ensure the success of its members.
---