Top 10 Christmas S'mores Charcuterie Board Ideas

---
---
Santa-Themed S'mores Charcuterie Tray with Christmas Candy
---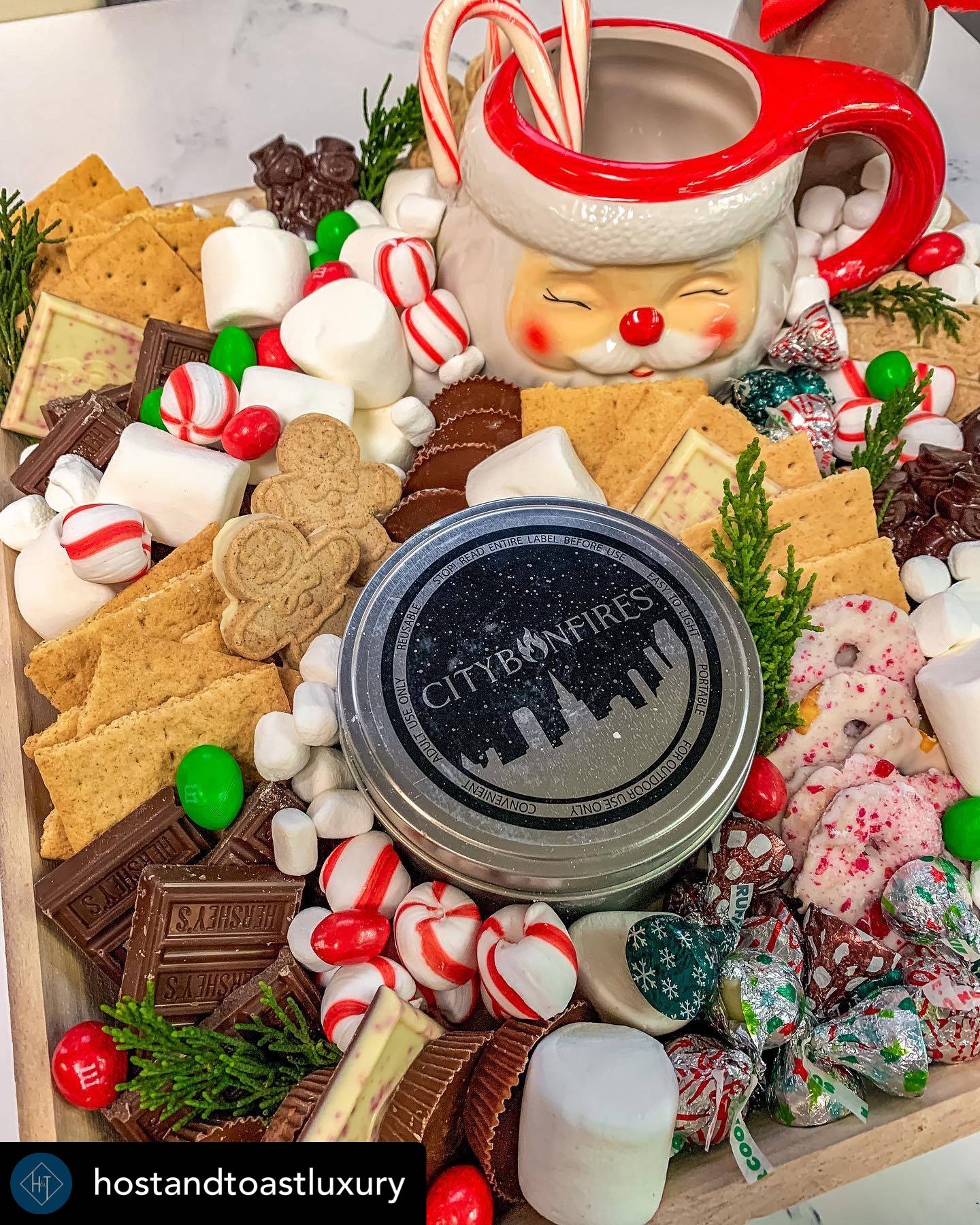 ---
Christmas S'mores Charcuterie Board with Purple and Pink Marshmallows
---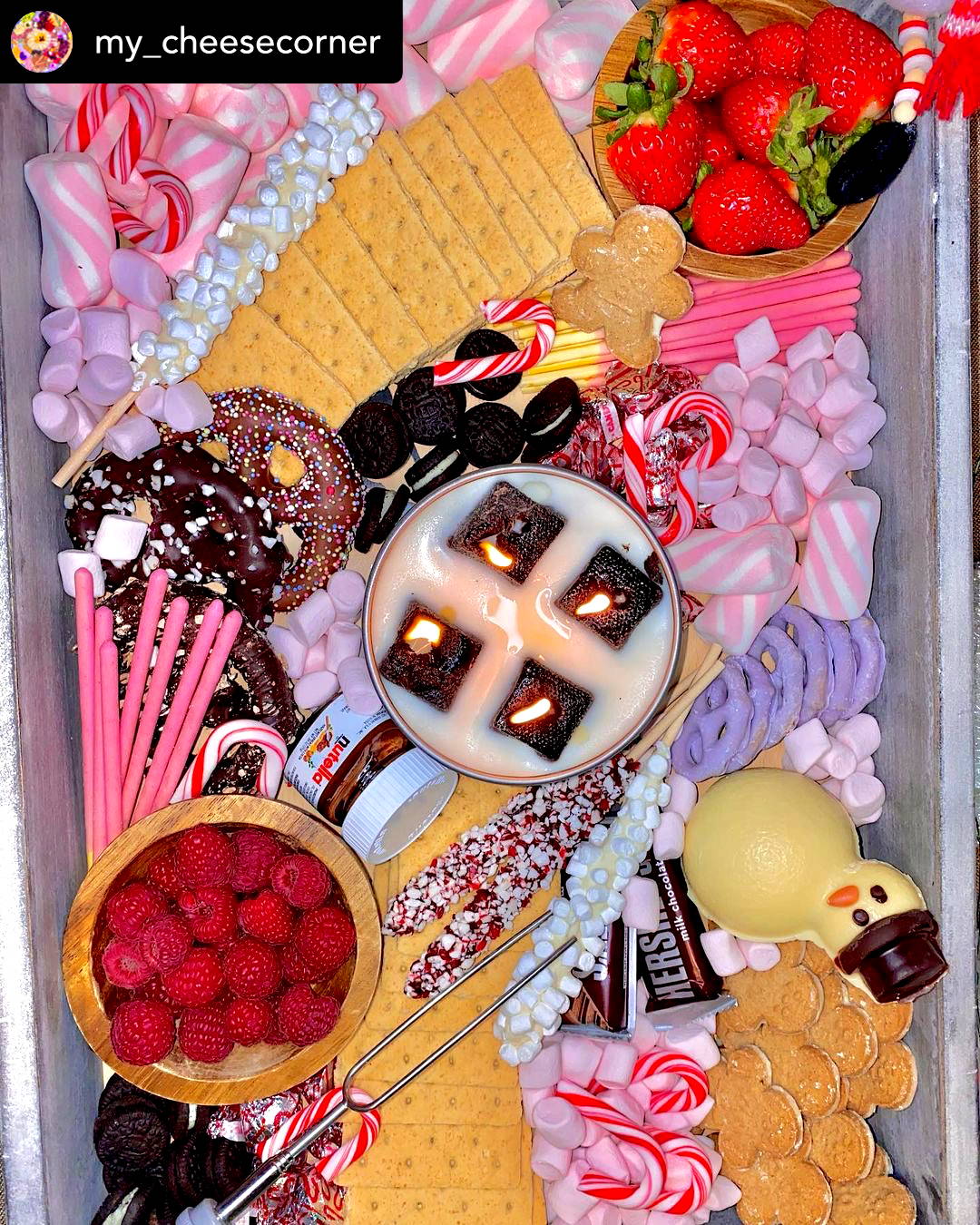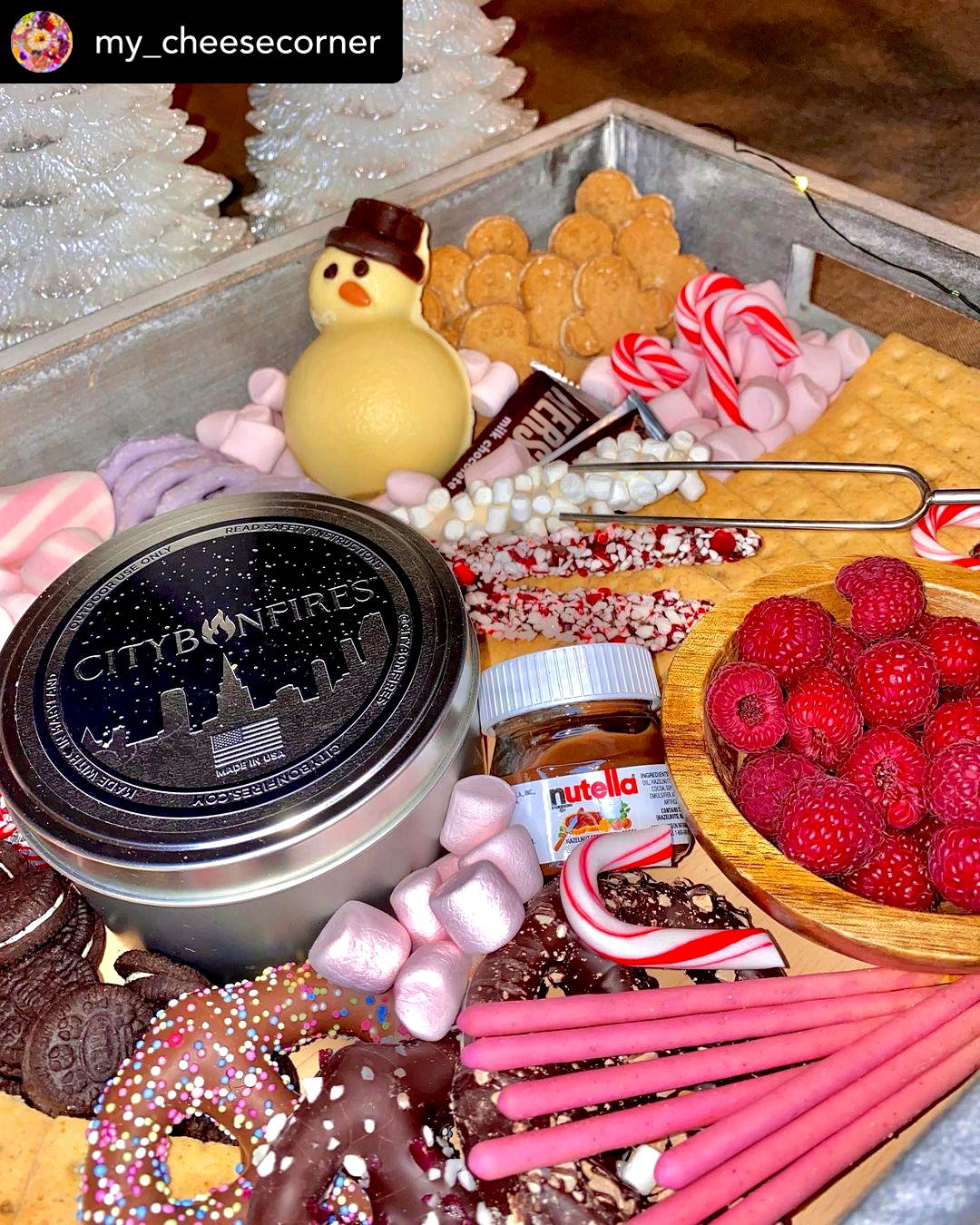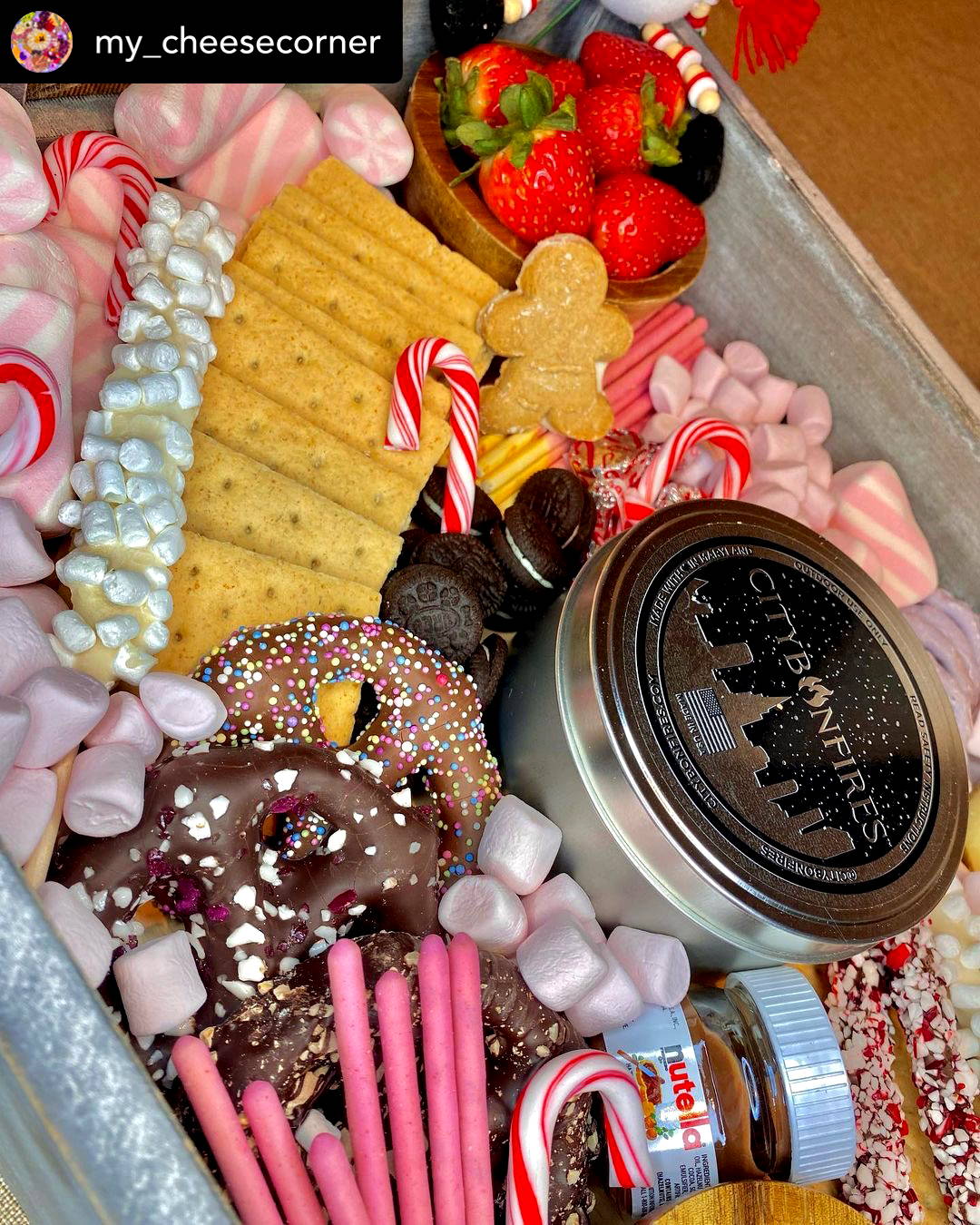 The custom charcuterie board and box creators at My Cheese Corner came up with this modern Christmas-themed s'mores tray with purple and twisted pink marshmallows as both decorations and treats. It's full of holiday treats that are sure to jingle your taste buds, like miniature candy canes, chocolate-covered pretzels, Nutella®, miniature Oreo® cookies, and a white chocolate snowman.
---
Christmas S'mores Charcuterie Board with Candy Cane Peppermint Spoons
---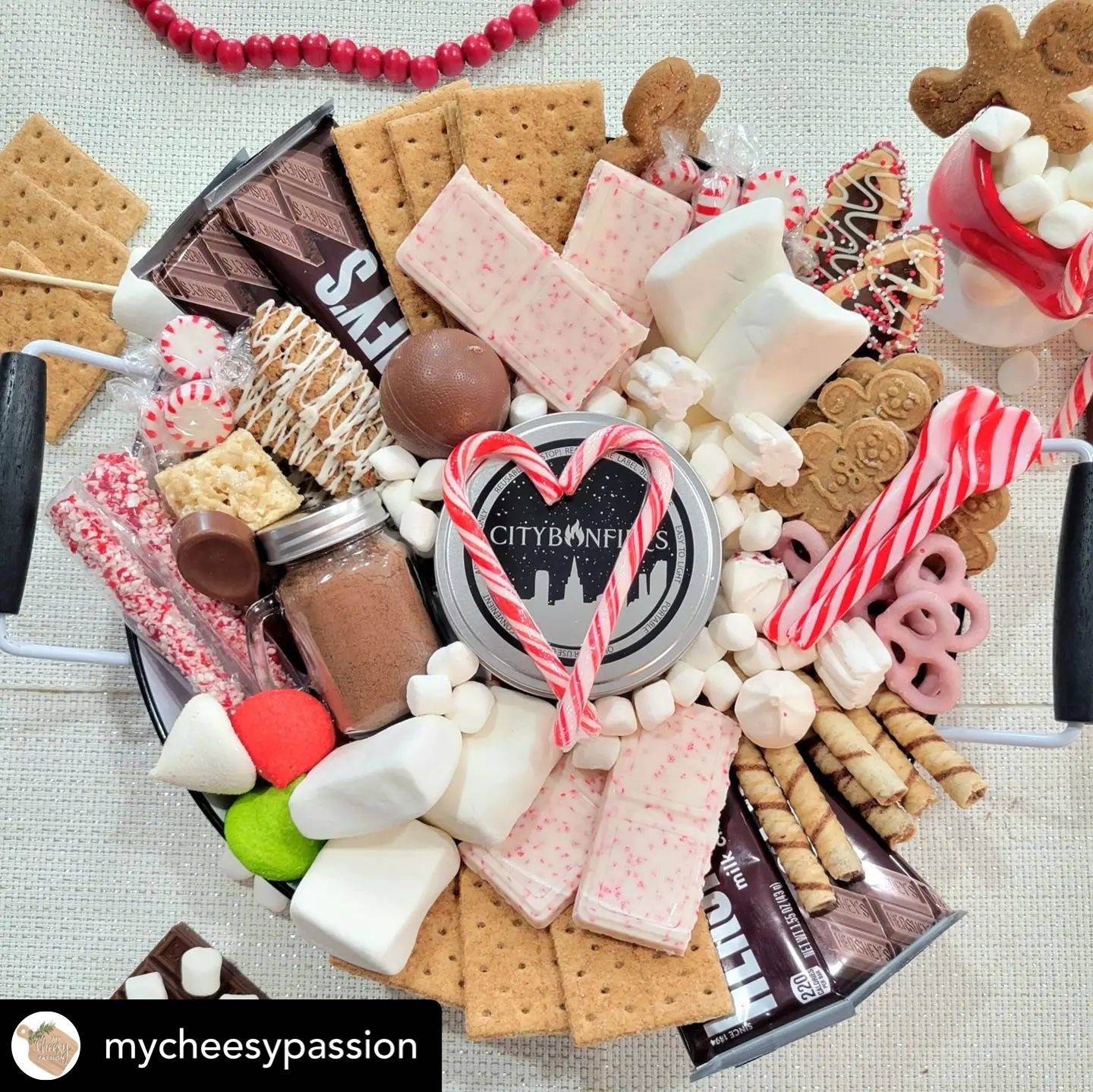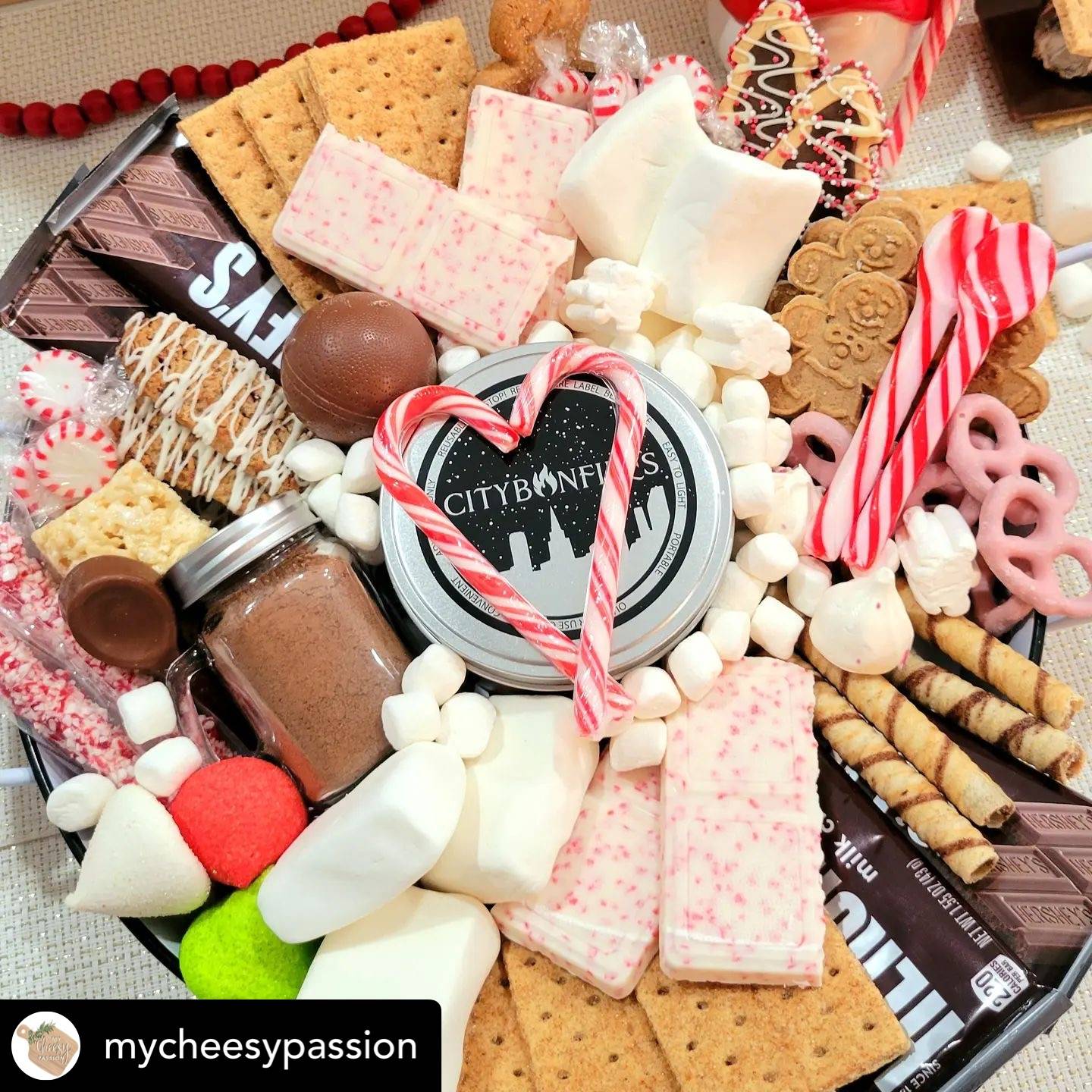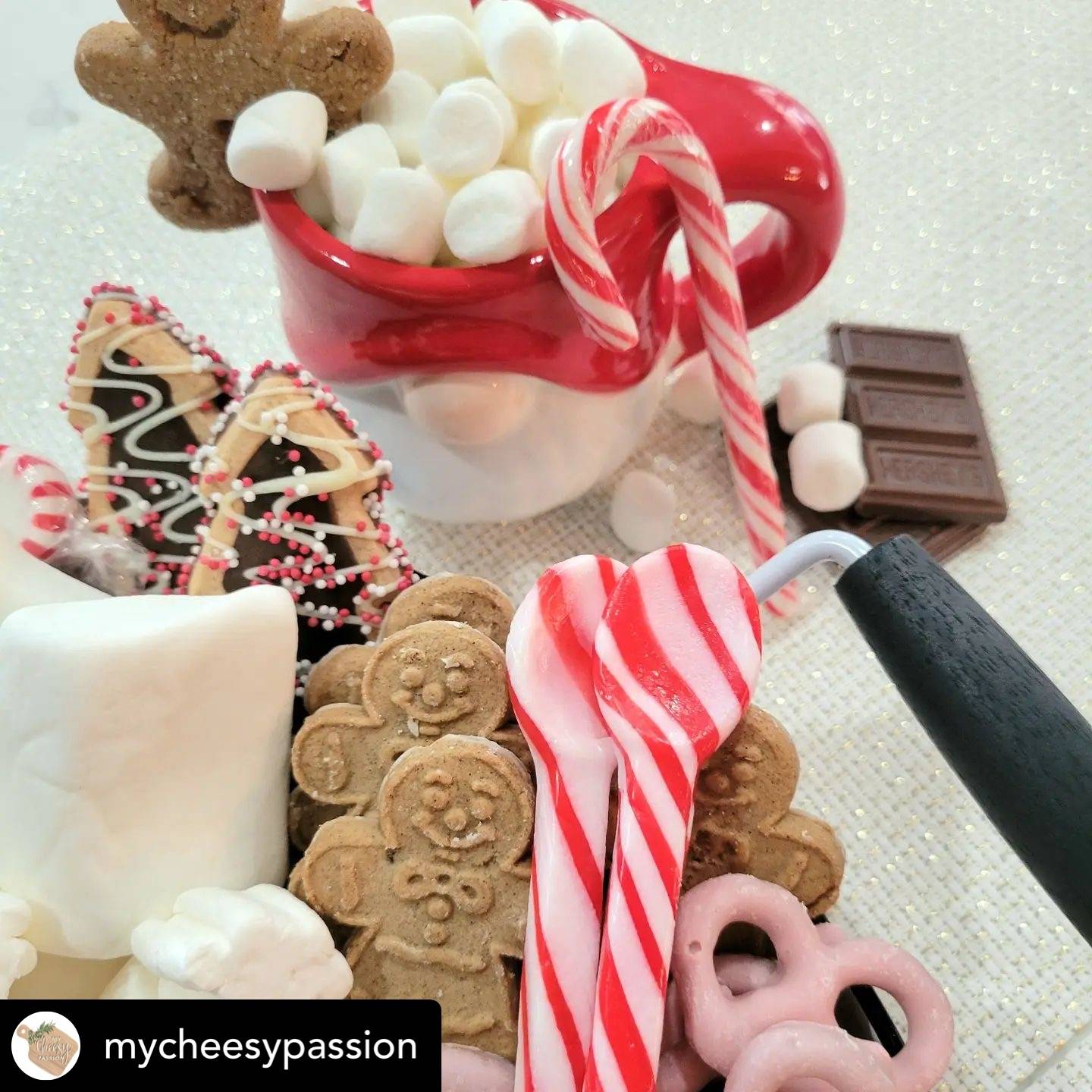 Hot cocoa is one of the most popular ingredients for seasonal Christmas charcuterie boards. This tray from My Cheesy Passion also includes a hot cocoa bomb and some very unique candy cane peppermint spoons to stir your hot chocolate with as you enjoy your s'mores with favorite holiday cookies like gingerbread men, Pirouline®, or Christmas tree-shaped cookies.
---
Glazed Gingerbread Cookies & More S'mores Tray
---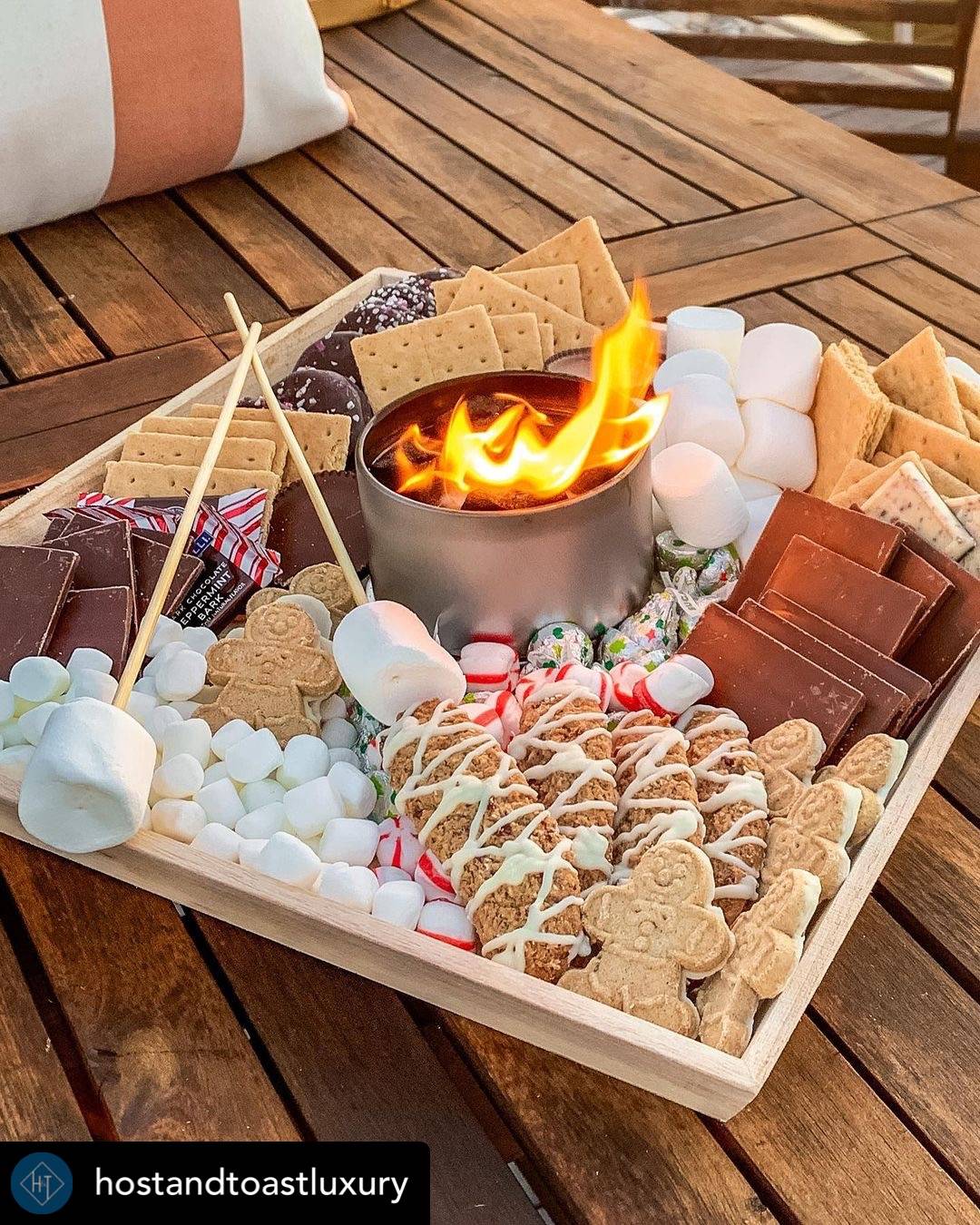 Gingerbread cookies are a classic Christmas cookie that's great for any holiday s'mores tray. Kick it up a notch with the glazed version and add a few Dark Chocolate Peppermint Covered Oreos & other holiday goodies, like our friends at Host and Toast Luxury Concierge.
---
Dark Chocolate Peppermint Bark S'mores Board
---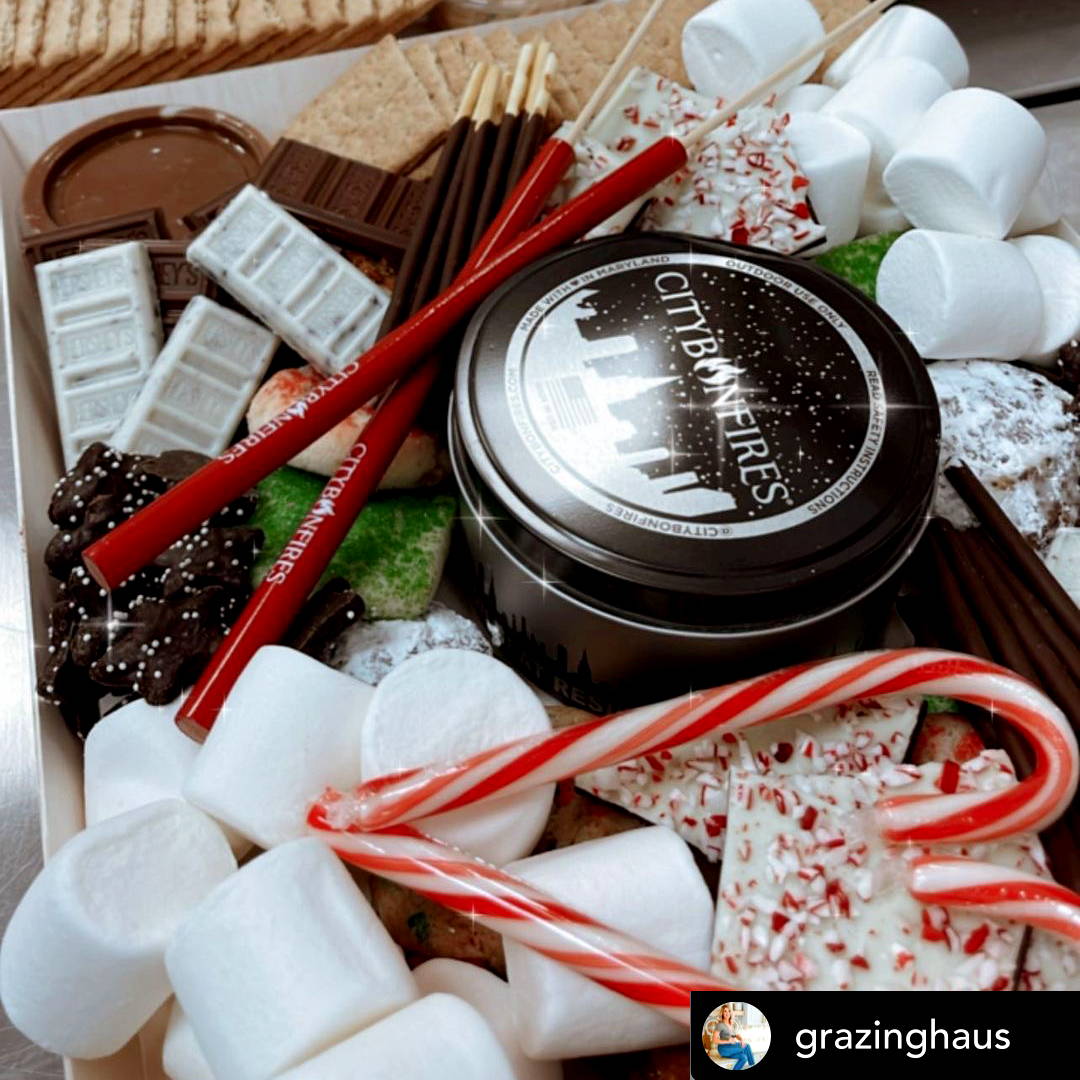 Another classic Christmas combo, dark chocolate Peppermint bark, creates a holly jolly s'mores board when combined with other s'mores favorites, like cookies and crème Hershey's bars, and homemade Christmas cookies. From the talented Ali Eck, owner of the Grazing Haus, in Cape Coral, Florida.
---
Crushed Peppermint Candy S'mores Tray
---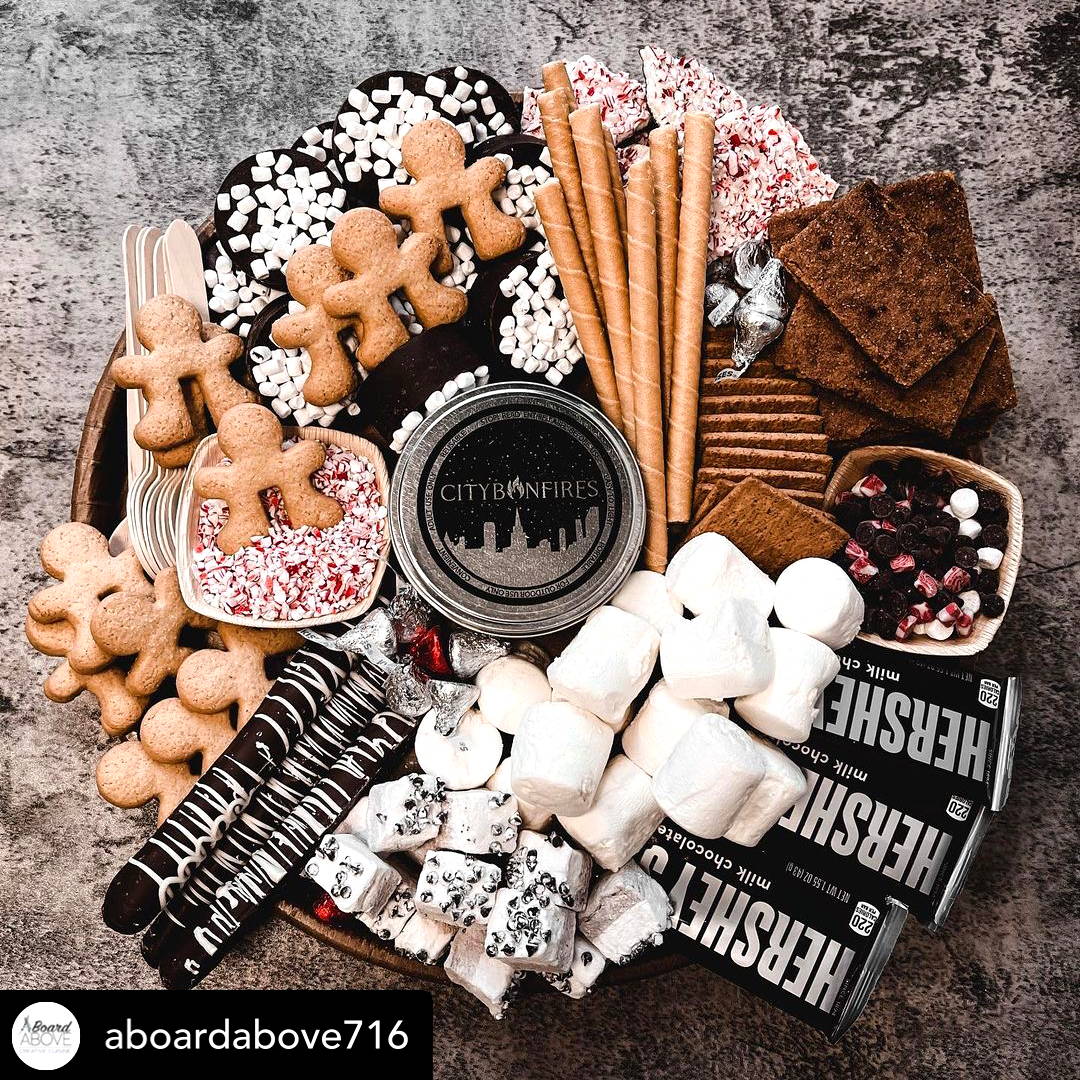 Oooo, what an amazing way to eat crushed peppermint candy… between melted chocolate and ooey gooey marshmallow! We bet you can't wait to try this peppermint s'mores hack out from A Board Above Creative Cuisine in West Seneca, New York.
---
Christmassy Red and Green S'mores Board with Strawberries
---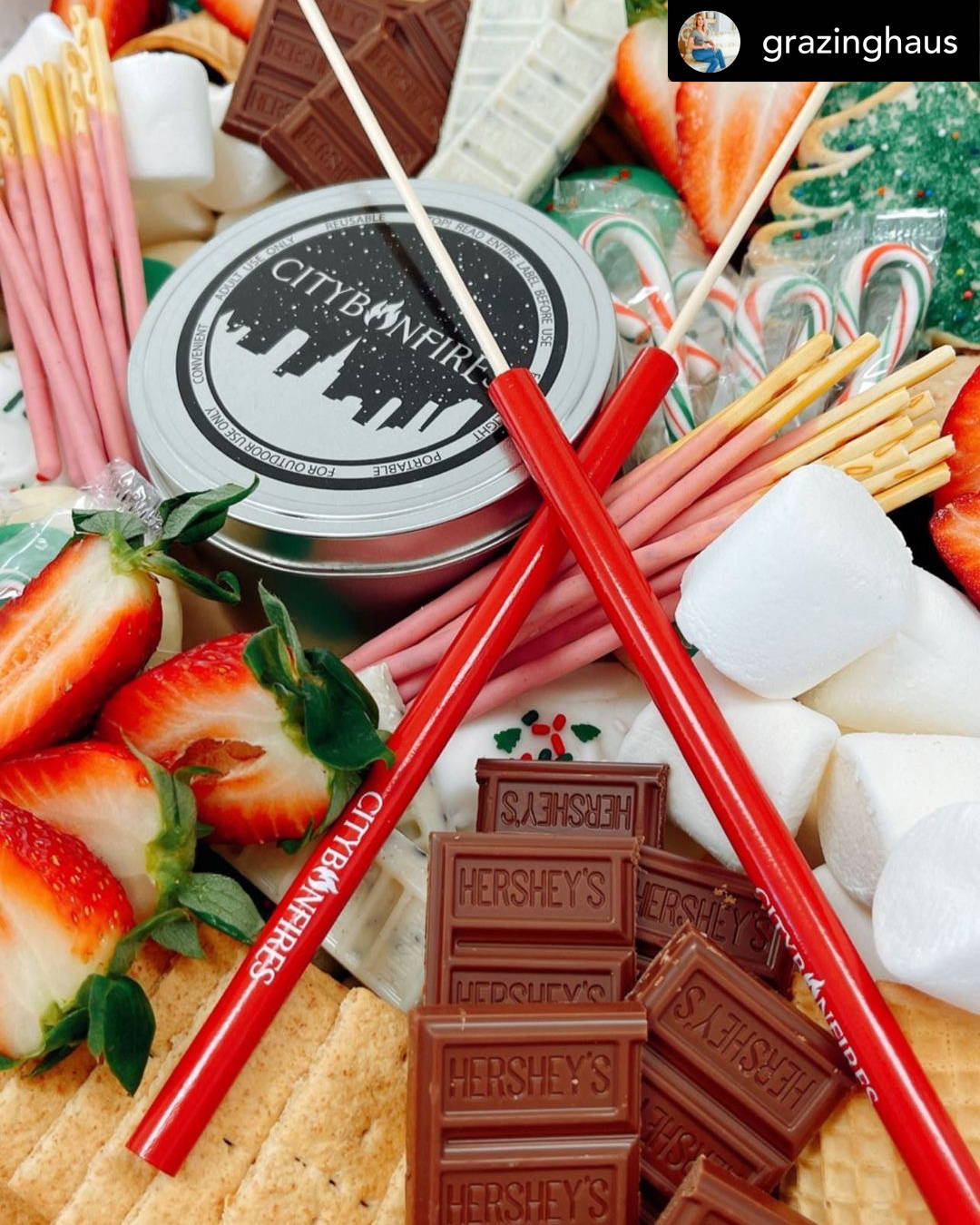 Strawberries in the winter, what a special treat! And they are the perfect colors to complement this red and green Christmas s'mores board, also from the Grazing Haus. Add in your favorite Christmas-themed cookies and candies to make your special version.
---
A Chocoholics S'mores Tray Dream
---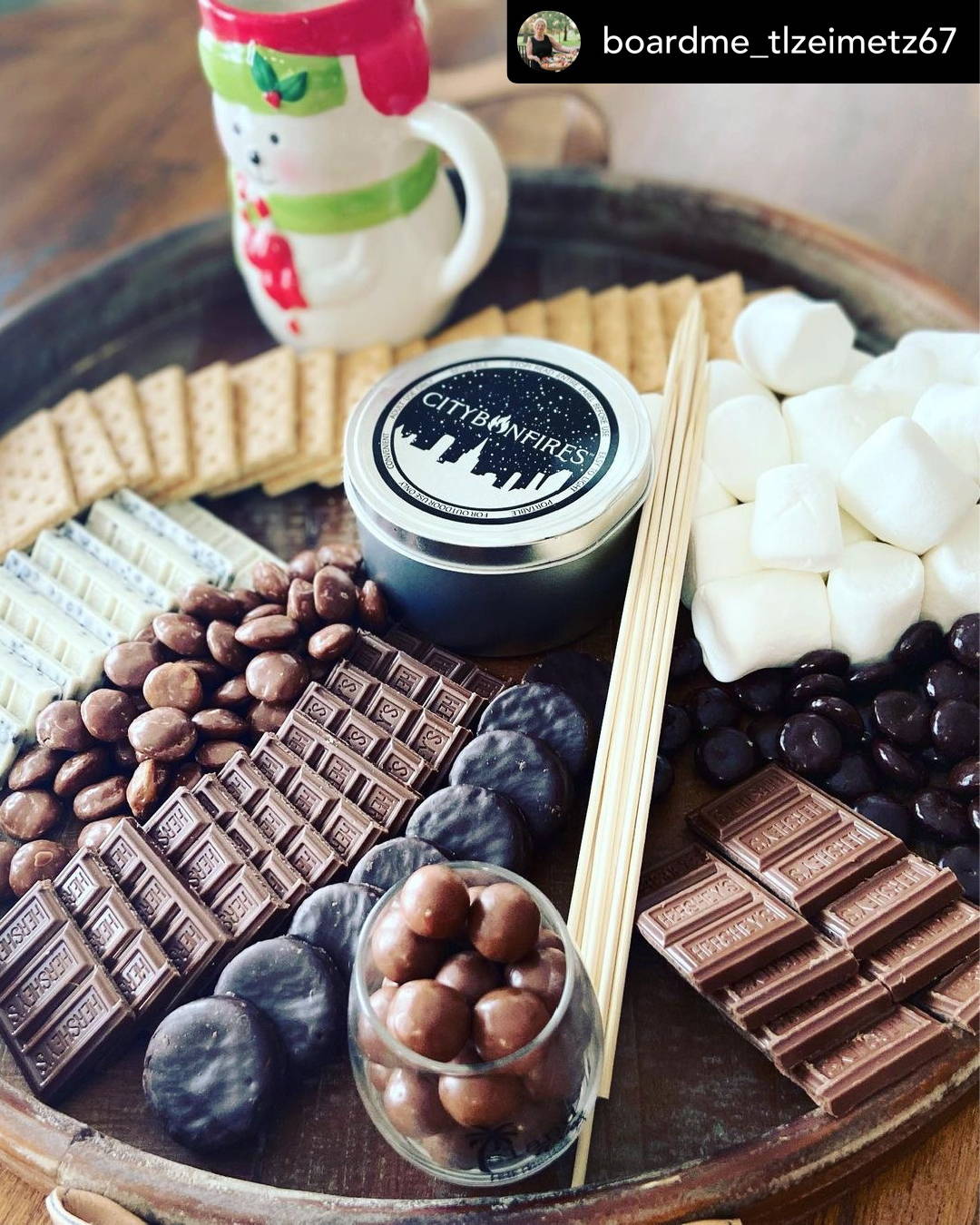 Is your pantry already stocked with all kinds of semi-sweet, milk, and dark chocolate delicacies? Great! Half your work is done. Indulge your love for chocolate by creating an easy and simple s'mores tray with a Christmas themed mug for hot cocoa, or coffee. Like this one from Board Me Catering, in Bertram, TX.
---
Snowman Themed S'mores Board
---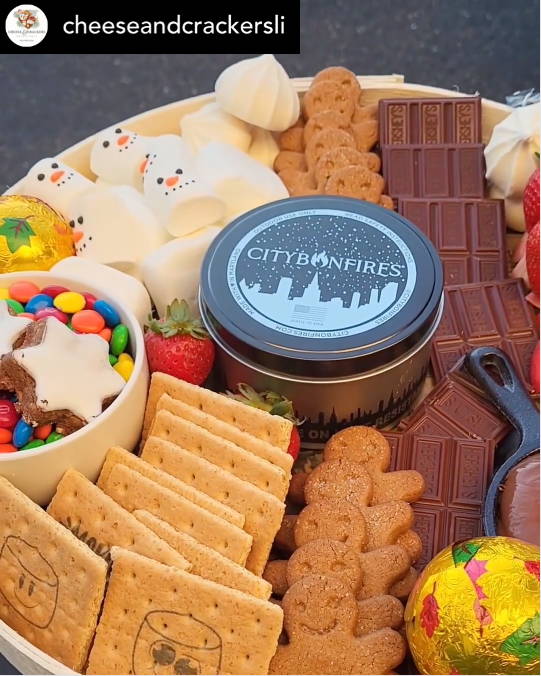 Have you seen these snowman marshmallows yet? They seem to be everywhere lately. So cute, and perfect for a winter snack after a snowy, sledding filled day. And look at the stamped graham crackers! And hot cocoa bombs! You're not going to have any "board" kids with this snowman s'mores board by Cheese & Crackers Charcuterie, in Long Island, NY.
---
Individual Christmas S'mores Trays & Table Décor for a Picnic
---
Ribbon Picnics, in Alberta, Canada, has outdone themselves with this elegant, yet simple red and green table décor and s'mores picnic setup. The butter cookies replace traditional graham crackers and are coated with chocolate. So, all you need is marshmallows. How easy, quick, & beautiful is that!
---
---
---
---
---
---
---
---