Your Top 10 Questions About City Bonfires Answered

---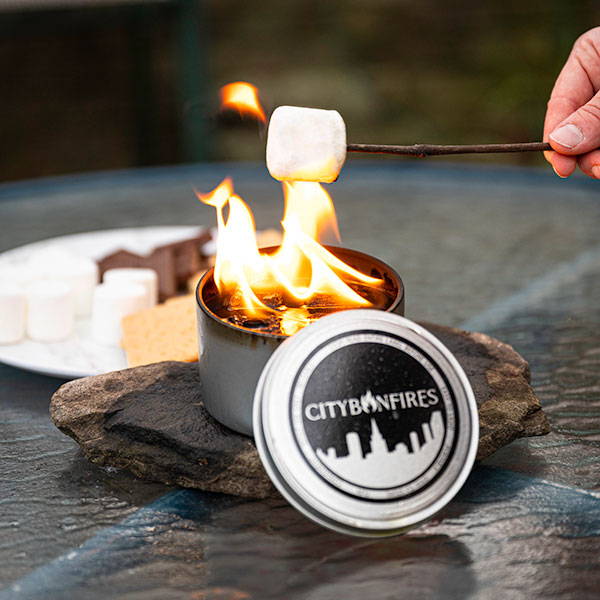 ---
1. Isn't this just a candle?
No. City Bonfires emit flames just like a fire, not the soft flicker from candlelight. The flames can be as tall as 12-14 inches. The four compost-based briquettes are much larger than a single candle wick and deliver at least 8 times the amount of fuel (soy wax) to the flame. So, remember
2. Will it damage or burn furniture or what I set it on?
No. Not if you use it correctly and read all of the instructions.
It will not damage level surfaces that can be in direct contact with fire or high heat without causing damage. Examples of recommended surfaces are a trivet used for placing hot pots and pans on, a flat rock, cement, sand, gravel, or the ground (as long as it is free of anything that can burn, like grass, sticks, or leaves).
However, City Bonfires can damage surfaces that are not meant to have a fire set on them. (Remember, this is not a candle.) So, you'll need to avoid placing it DIRECTLY on (or near) anything that is made of glass, wood, plastic, fabric, or any other material that can be burned or damaged by high heat temperatures or direct fire. This includes furniture, grass, tables, dishes, plates, bowls, trays, and outdoor countertops. NOTE: You can place City Bonfires on furniture ONLY if you place a trivet or other high heat resistant item underneath it to protect your furniture.
3. How do I recycle my City Bonfires tin?
Recycling is very simple since City Bonfires leave no ashes or soot behind to clean up. First, wait for your City Bonfire to completely cool after the wax reaches the point marked on the outside of the tin. Remove the remaining wax and briquettes and discard. Wash the tin and lid with dishwashing soap, dry, and recycle. Pretty simple!
Or reuse the tin to store hair ties, cotton balls, and coins. You can also turn it into a planter for succulents! Find out how on our blog, How to Reuse Your City Bonfires as a Planter!
4. Can I cook on a City Bonfire? How?
Yes, you can use City Bonfires to cook! It is a mini bonfire, so we recommend cooking food and liquids similar to what you would cook on a larger wood bonfire or campfire. Our fans love cooking marshmallows, hot dogs, or mini sausage on it using skewers or roasting sticks. Jiffy Pop popcorn is a fan favorite also. You can also use a cooking grate on a level surface, if it's rated for use with fire. Then you can use pots and pans to cook with, to boil water, ramen noodles, soup, pop popcorn, or anything else you can cook in a pot or pan.
5. How long does it last?
The shelf life for every City Bonfire is 30 years and the burn time is a total of 3-5 hours, depending on conditions. They are reusable, so you only have to use them when you need them, making them a must have for emergency situations.
6. Can I use City Bonfires when there is a fire ban?
City Bonfires are often allowed in places where an open fire ban is in effect. HOWEVER, the only way to know if they are allowed is to check with the local authorities that govern open fires in the area you'll be using it. It's very important to check with the county, campsite owners, state, or national park authorities before lighting one.
7. Can City Bonfires be used outdoors as an emergency cooking, lighting, or heat source?
City Bonfires is one of the best items to keep in your emergency kit, bug out bag, or prepper supplies. You can use it outside to cook with, stay warm, or for lighting. Learn more on our blog, The Best Item to Add to Your Emergency Kit.
8. Can I become an ambassador for City Bonfires?
Yes! We absolutely love our ambassadors and we're always glad to have new ones join the team. You can find out more and apply to be an ambassador on our site.
9. Can I order large quantities for my event, promotions, business, or gifts?
Yes! You can order larger amounts of City Bonfires and S'mores Kits for a wedding reception, rehearsal dinner, corporate event, promotional products, swag bags, s'mores boxes, party, celebration, charcuterie board businesses, and more. All you have to do is let us know what your needs are by requesting a quote through our corporate gifts and bulk orders page.
10. How do I find out about discounts, new products, and ways to use City Bonfires?
The best way to be the first to know about our promotions, discounts, new products, and new ways to use City Bonfires is to sign up for our newsletter at the bottom of our webpages. Then, follow us on our social accounts (also at the bottom of the page) so you can find out about giveaways and more that are only posted in our social media. You can also join our City Bonfires Adventures Facebook Group.
---
---
Do you have more questions? We'd love to answer them! You can contact us through our social pages by commenting or sending a direct message, or contact us directly.
And don't forget to tag us on your posts using City Bonfires. Use tag #citybonfires. We love seeing and sharing all of the different ways you make more memories with City Bonfires.
---