Vegan S'mores Bars Recipe That's Crunchy and Gluten Free

---
We recently discovered this "craveable," easy-to-make, Vegan S'Mores Bars Recipe from Cooking With Love Sedona (created for Chocolita) and we just had to share! Chocolita creates unique, delectable botanical flavored chocolate bars and truffles to health-conscious individuals who care about organic, fair-trade, and want a plant-based, low-glycemic chocolate. They found us on Instagram and ordered City Bonfires for their photoshoots (above) to have s'mores by the fire and just because "it looks cool!" They also plan on making food on our little, mini bonfire cooker.
Prep Time: 5 mins
Cook Time: 15 mins
Recipe Makes: 9-12 bars
Crunchy, chewy, soft, and toasty–these s'mores bars taste incredible with Chocolita herbal chocolate. Level up by bringing these to your next campout or have fun making these in the kitchen to enjoy with friends, family, or just for yourself. I've made this recipe several times already and it is a huge hit every time. I hope you enjoy it too!
Let's dig into the recipe.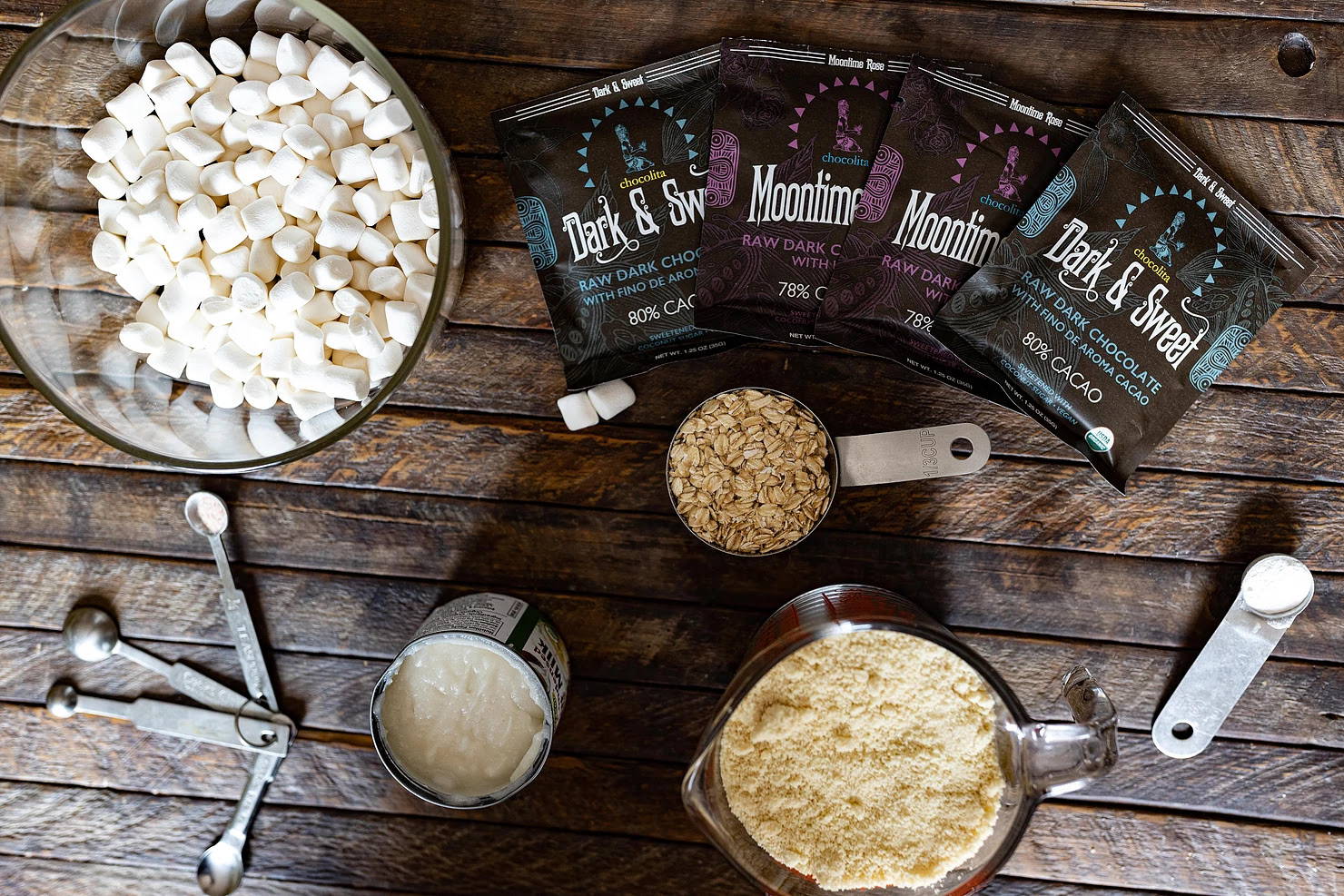 With only 7 ingredients, these are also super easy to throw together for whatever the occasion.
Ingredients you will need:
Here are some substitutions if you do not have vegan marshmallows, or if you want to add other or more toppings:
Chopped pecans or walnuts

Freeze-dried raspberries or other fruit

Shredded dried coconut

Sliced bananas

Vegan candy-coated mini chocolates (similar to the famous, round variety). We like the milk chocolate candies from Unreal Snacks. They are available in many local grocery stores or online.
Be creative! Use what you have.
What you will need to make this recipe:
Parchment paper

A baking pan
I am using a 9x9-inch square pan. If you don't have a pan that's square, a round cake pan will do, but it may affect the final bake time.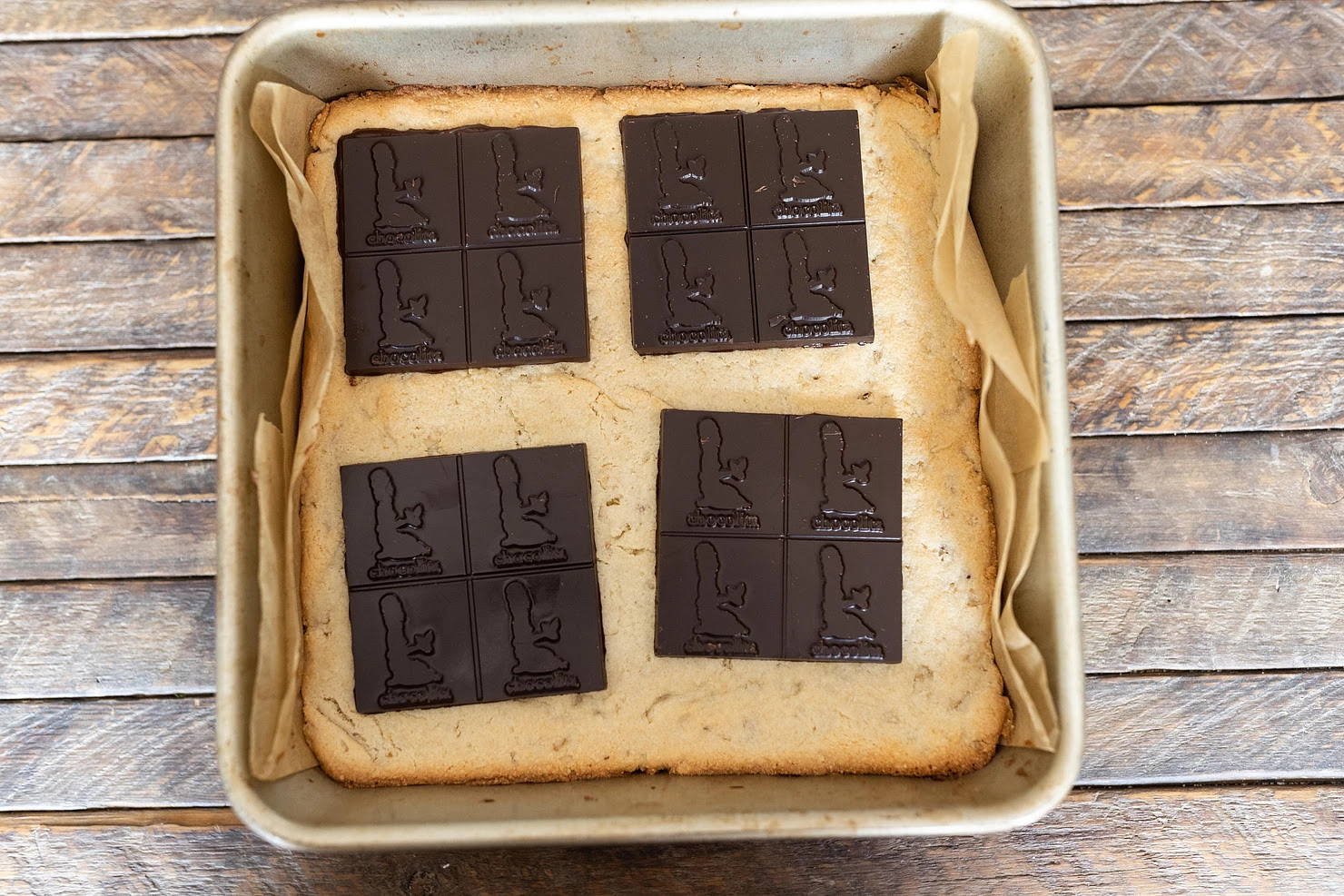 Directions
Pre-heat your oven to 350 degrees.

In a large mixing bowl, add almond flour, baking soda, oats, salt, and condensed coconut milk. Stir to combine.

Transfer the mixture to a baking pan lined with parchment paper and spread it 1/4 inch thick. Or, until it's flat and the bottom of the pan is entirely covered.

Bake at 350 for 10-15 mins. until the sides appear slightly golden brown. (See photo above.)
NOTE: Each oven is slightly different. This can account for slight variations in bake time.

Remove the pan from the oven onto a hot pad. Add the chocolate bars on top and let them melt. When melted, spread the chocolate evenly to the sides.

Add the marshmallows on top, in any amount you desire.

Then brown the marshmallows. Set the oven to broil and turn the oven light on. Rotate the pan every minute or so for 4 minutes, until the marshmallows start to brown. Do not walk away from the oven. This step can be tricky. The marshmallows will easily burn if you do not monitor them.

Once the topping is brown, remove the pan from the oven and let it cool for up to 15 mins. before slicing and enjoying.
About City Bonfires
Every portable City Bonfires is handmade with ❤️ in Maryland with American-made materials by two Dads whose jobs were impacted by COVID-19. Each of our mini campfires is handmade with recyclable steel tins, non-toxic soy wax and, eco-friendly, all-natural biodegradable briquettes. Our kits are individually wrapped and packaged, making them safe for outdoor intimate gatherings, patio parties, or large events. We can ship our s'mores gift sets individually (to separate addresses) or as a bulk shipment. City Bonfires are also perfect as promotional products or as an icebreaker for remote or in-person corporate/business events, celebrations, or virtual team-building activities.
---