5 Reasons I Love My City Bonfire: Perfect Blend of Cozy and Convenient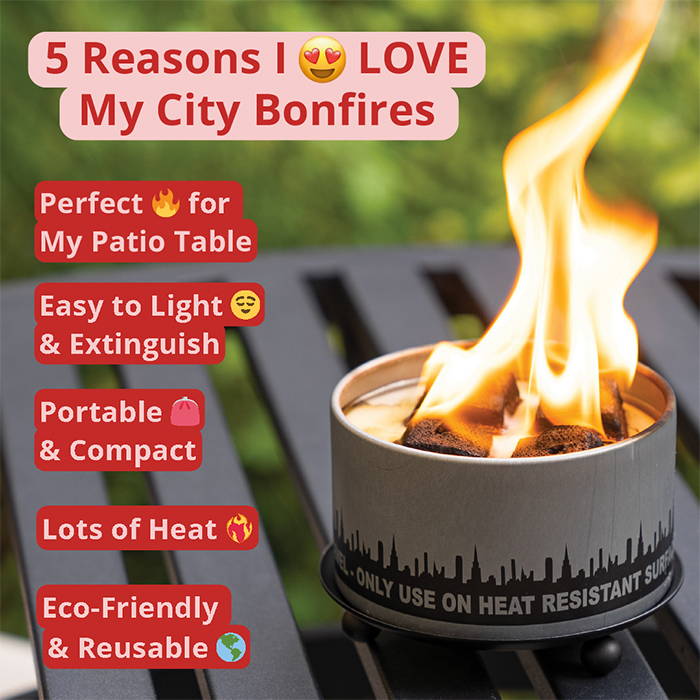 If you're like me, there's nothing quite like the crackling warmth of a bonfire, but living in the heart of the city often means limited space and a need for something portable, efficient, and eco-friendly. That's why I absolutely adore my City Bonfire - it's the best of both worlds! Here are the top five reasons why I can't get enough of it:
Portable and Compact:

Living in a cozy urban apartment, I don't have the luxury of a sprawling backyard. That's where my portable City Bonfire comes in. It's compact enough to fit on my balcony, allowing me to enjoy the ambiance and warmth of a bonfire without sacrificing precious space. It's also pocket-sized so I can take it on all of my outdoor adventures.

Easy to Light and Extinguish:

Convenience is key, especially when I want to unwind after a long day. My City Bonfire is a breeze to light, thanks to its design that ensures a quick and hassle-free setup. When it's time to call it a night, extinguishing the flames is just as effortless, making cleanup a snap.

Lots of Heat:

Don't let its size fool you - my City Bonfire puts out an impressive amount of heat. Whether it's a chilly evening with friends or a solo night under the stars, I can count on my travel campfire to keep me warm and cozy, creating the perfect setting for memorable moments.

Perfect for Small Spaces:

As much as I love living in the city, space is at a premium. But that doesn't mean I have to miss out on the joys of a bonfire. My compact bonfire fits snugly in my urban oasis, turning even the tiniest nook into a delightful haven of warmth and relaxation.

Eco-Friendly and Reusable:

With sustainability in mind, my City Bonfire is designed to be eco-friendly and reusable. They are made with 100% recyclable steel tins, 100% nontoxic FDA food grade soy wax, and 100% biodegradable, compostable plant-based material, leaving minimal impact on the environment. Plus, it provides me with up to 5 hours of campfire and I can light it, extinguish it and relight it again, making it a responsible choice for enjoying the simple pleasures of a bonfire.
My City Bonfire has truly transformed my urban living experience. It's the epitome of convenience, providing a portable, easy-to-light source of heat that's perfect for my small space while being kind to the planet. Whether it's a solo quiet night with a book or a cozy gathering with friends, my City Bonfire never fails to bring warmth and joy to my life.