About
Best Portable Tabletop Fire Pit
Details
City Bonfires are the original mini portable fire pits that are handmade in the USA (in Maryland) with nontoxic materials by 2 Dads whose jobs were impacted by the COVID pandemic.
Say goodbye to the hassles of traditional wood-burning campfires! City Bonfires offer an environmentally-friendly, clean-burning, bonfire experience, eliminating the need to buy, store, pack and carry firewood. So, there's no clean up after our smokeless fire pits  are extinguished – no ashes, no flying embers, and no soot! This also makes City Bonfires one of the safest ways to make a bonfire – especially for kids and pets.
Ingredients
Eco-friendly, 100% non-toxic FDA approved food-grade soy wax, 100% biodegradable, compostable, plant-based briquettes, recyclable steel tin.
Easy to Use Portable Campfire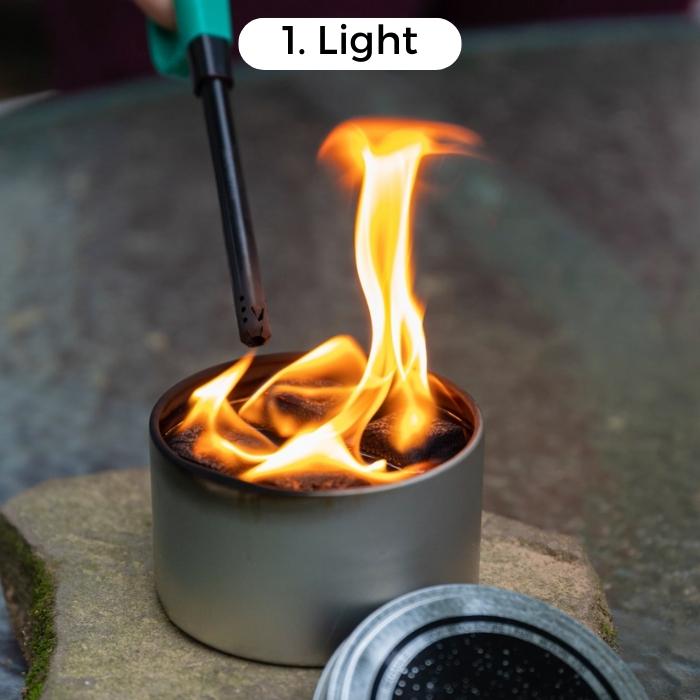 Place your City Bonfire outside on a flame resistant, level surface or trivet. Remove the lid and light each briquette (we recommend a wand or torch lighter).
Review safety warnings and instructions included before lighting.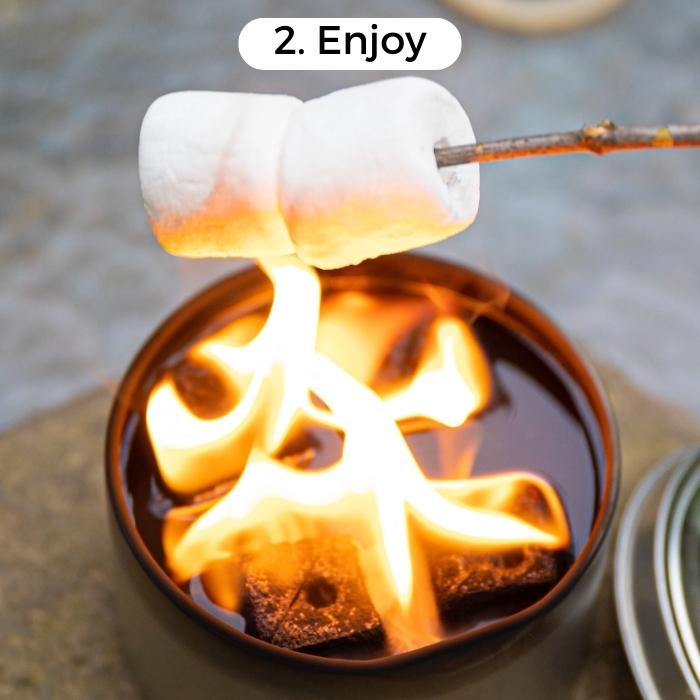 Enjoy your mini bonfire! Roast marshmallows, make s'mores, stay warm & cozy, or cook on it.
DO NOT TOUCH OR MOVE WHILE IN USE.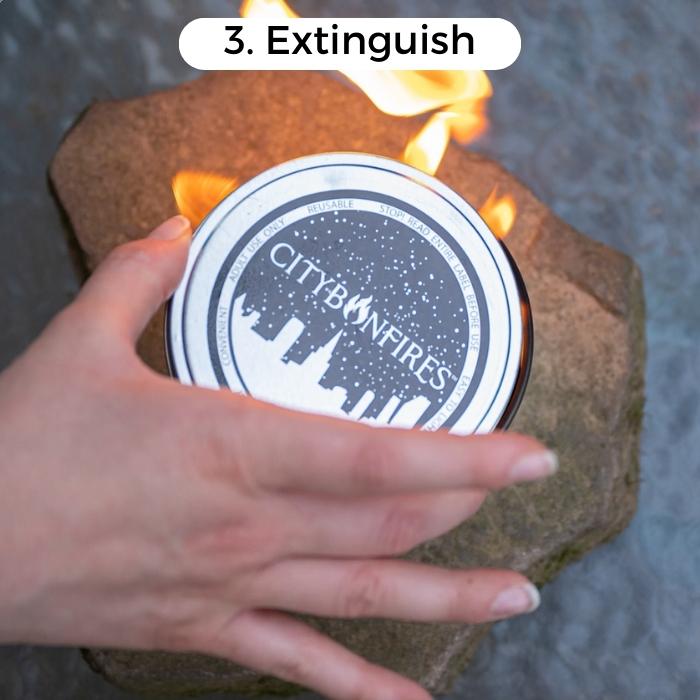 Extinguish your City Bonfire by replacing the lid. Allow it to cool completely before moving.
Ways to Use a Portable Fire Pit
Bring Your Own Bonfire (#BYOBONFIRE) wherever your outdoor adventures take you.
Best Portable Fire Pits for Outdoor Use
Compact and lightweight, City Bonfires travel campfires are the best gifts and perfect for all your outdoor adventures: the backyard or patio, camping, beach trips, date nights, backpacking, hiking, emergency/disaster situations and more!
Sustainable, Eco-Friendly Fire Pits
City Bonfires sustainable, eco-friendly fire pits do not require any wood. They use an environmentally-friendly fuel source (100% food-grade soy wax) with low carbon emissions that leaves no trace left behind.
Best Tabletop S'mores Maker & Portable Fire Pit
When it comes to roasting marshmallows, hot dogs, and making s'mores boards, City Bonfires is the king.
This product has no reviews yet.
Shop Collections
We got everything you need for an amazing summer.
View all
Have a question? We are here to help.
Checkout our "Chat with us" Feature on the bottom left of your screen or email support@citybonfires.com
Our customer support is available Monday to Friday: 8am-8:30pm.
Average answer time: 30 mins
What is City Bonfires made of?

City Bonfires is made with 100% recyclable steel tins, 100% nontoxic FDA food grade soy wax, and 100% biodegradable, compostable plant-based material.
Can I use my City Bonfires Indoors?

City Bonfires is for OUTDOOR use ONLY!
How big is City Bonfires?

City Bonfires is compact and perfectly portable for all your outdoor adventures. It is 2 x 4 inches.
Does you have a FAQ Page?
Our customer support is available Monday to Friday: 8am-8:30pm.
Average answer time: 30 mins