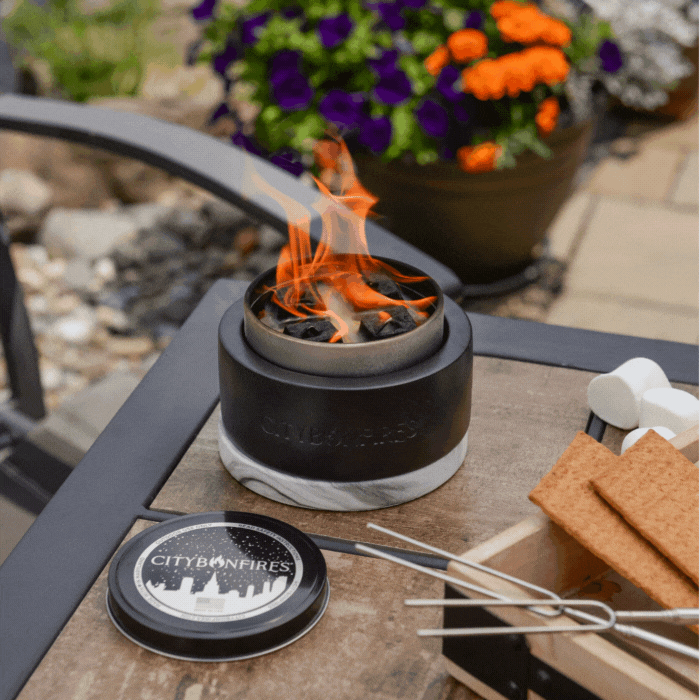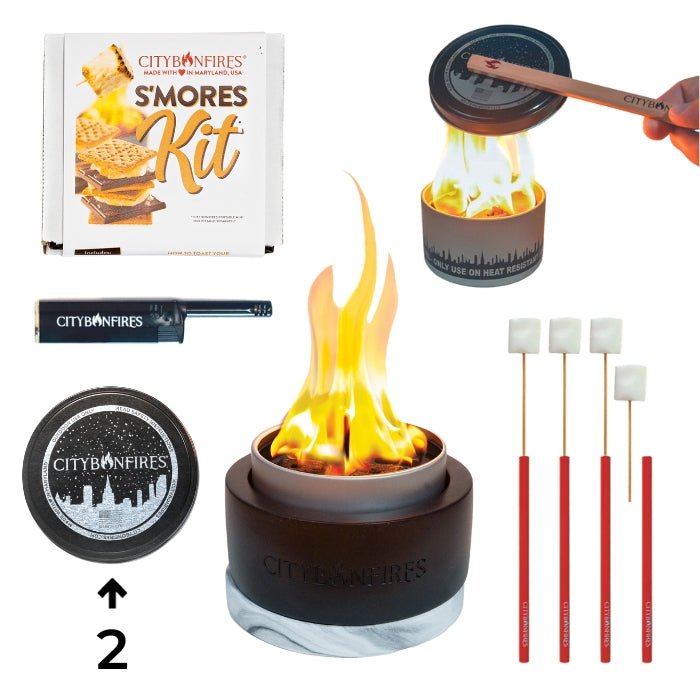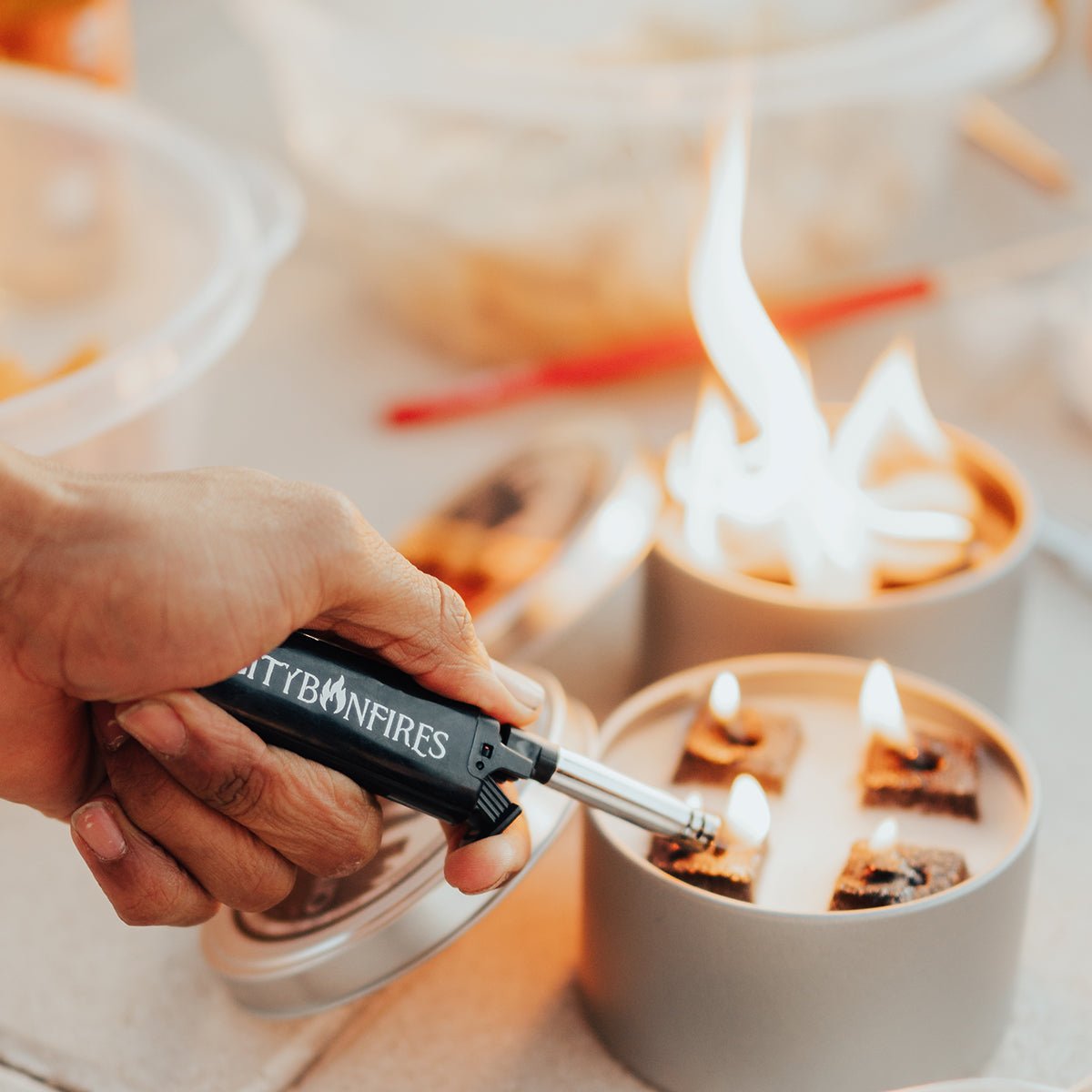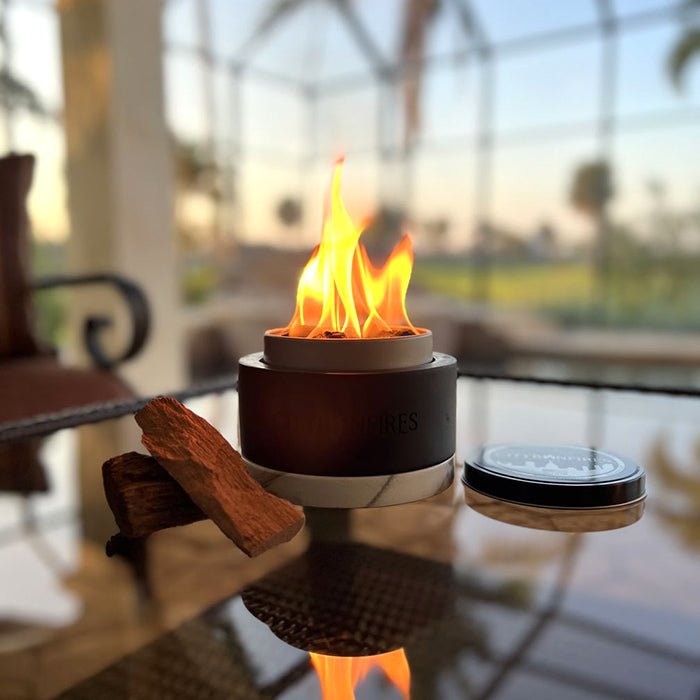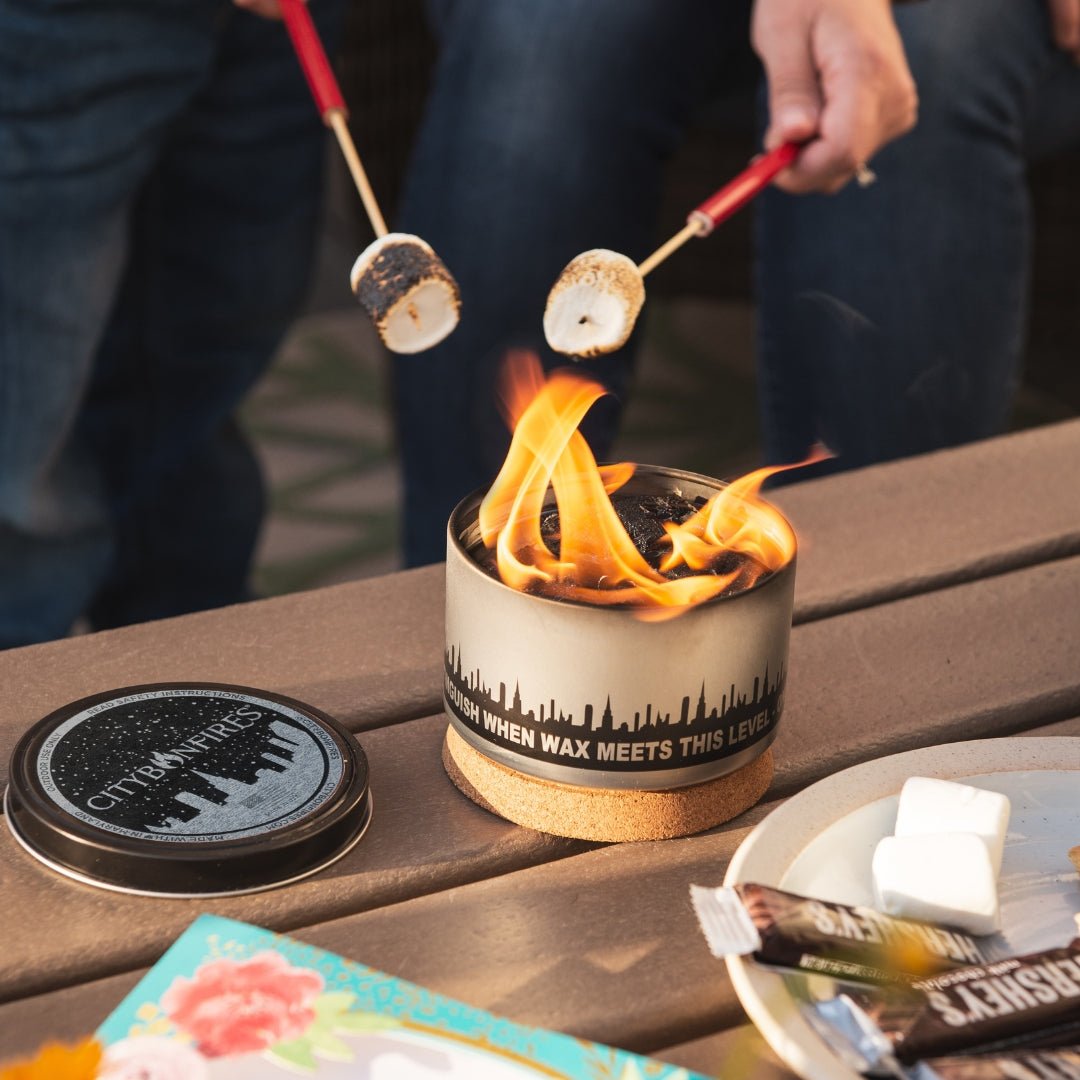 City Bonfires Best Sellers Gift Bundle
---
Experience the Ultimate Bonfire Bliss with the City Bonfires Best Sellers Gift Bundle!

Unleash the magic of togetherness with our carefully curated Best Sellers Gift Bundle, featuring a handpicked selection of our most beloved products. This bundle is designed to elevate your outdoor gatherings, making every moment memorable and enchanting.

What's Included:

S'more Kit (Makes 4):

Ignite the joy of crafting your own s'mores with our S'mores Kit. This kit includes all the essentials for a delightful s'mores experience—8 graham crackers, 4 marshmallows, and 4 chocolate bars.

Portable Reusable Skewer 4 Pack:

Elevate your roasting game with our Portable Reusable Skewers. Crafted for convenience and durability, these skewers ensure your marshmallows are perfectly toasted every time.

2-Pack City Bonfires:

City Bonfires are the original mini portable fire pits that are handmade in the USA (in Maryland) with nontoxic materials by 2 Dads whose jobs were impacted by the COVID pandemic.

Lid Buddy:

A detachable lid handle for quickly and safely extinguishing City Bonfires and our Outdoor Candles. It also doubles as a roasting stick!

City Bonfires Petite Tabletop Fire Bowl:

Add a touch of elegance to your outdoor space with the Petite Tabletop Fire Bowl. Compact yet powerful, this

table top fire pit

enhances the ambiance, creating a focal point for intimate gatherings. T

his fire bowl is designed to house and display your City Bonfire and City Bonfire Outdoor Candles.

City Bonfires EZ Lighter:

Make lighting your

City Bonfire a 

breeze with our EZ Lighter. Designed for convenience, this lighter ensures a quick and easy ignition, allowing you to enjoy your bonfire effortlessly.

Whether you're gifting to a friend or treating yourself, the City Bonfires Best Sellers Gift Bundle is the ultimate way to enhance your outdoor experiences. Bring warmth, joy, and the enchantment of a crackling bonfire to your gatherings. Order now and make every moment by the fire unforgettable!

Ignite the magic of City Bonfires in your outdoor adventures.

Limited quantities available. Order early to ensure availability.
Revolutionize Your Outdoor Experience
We'll bring the heat.
This product has no reviews yet.
Shop Collections
Shop the product PEOPLE Magazine calls "Game-Changing!"
View all
Have a question? We are here to help.
Checkout our "Chat with us" Feature on the bottom left of your screen or email support@citybonfires.com
Our customer support is available Monday to Friday: 8am-8:30pm.
Average answer time: 30 mins
What is City Bonfires made of?

City Bonfires is made with 100% recyclable steel tins, 100% nontoxic FDA food grade soy wax, and 100% biodegradable, compostable plant-based material.
Can I use my City Bonfires Indoors?

City Bonfires is for OUTDOOR use ONLY!
How big is City Bonfires?

City Bonfires is compact and perfectly portable for all your outdoor adventures. It is 2 x 4 inches.
Our customer support is available Monday to Friday: 8am-8:30pm.
Average answer time: 30 mins